Our Blog
Welcome to our blog - a space shared by ESOL students and tutors. Happy reading!
---
on 26-Mar-2019
---
Rabbie Burns and Burns Suppers
Friday, 22nd January 2021 on 22-Jan-2021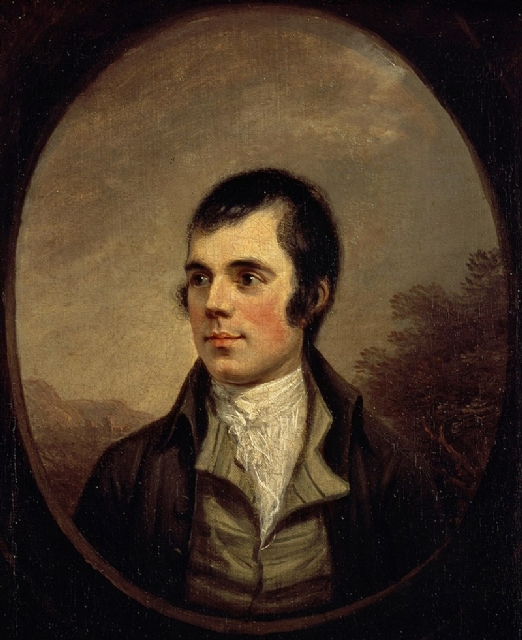 25th January is the anniversary of the birth of Scotland's most famous poet Robert Burns (Rabbie Burns), in 1759 and it is celebrated with Burns Suppers. The traditional supper includes a meal of haggis, neeps and tatties (turnips and potatoes), whisky, and reciting poetry written by the 18th-century poet.
Robert Burns was born on January 25, 1759, in Alloway, Ayrshire, Scotland. He died aged just 37 on July 21, 1796, but in his short life, he composed a vast catalogue of poetry and songs that have been studied intensively, enjoyed and spoken aloud for more than 200 years.
Burns wrote poetry in both Scots and English, and many of his most memorable works are a careful blend of the two. This made the poems widely accessible to both Scottish and English-speaking audiences while retaining a character that was distinctly Scottish. He wrote about topics as varied as politics, class inequality, Scottish nationalism, romance, religion, socializing, and social justice. His lyricism, his ability to appeal to varied audiences, and his short but colourful life served as an inspiration for Romantic poets and writers that followed in the next generation.
Burns was also a lyricist (a person who writes the words to a popular song) and he contributed more than 100 songs to a book called The Melodies of Scotland. Most famously, he wrote Auld Lang Syne (he added new lyrics to a traditional Scottish tune) and A Red, Red Rose.
Other Rabbie Burns facts:
For all his fame, Burns never forgot his humble roots. His love for farming stayed with him throughout his life and his writing often dealt with issues affecting the poorer classes, notably highlighting the need for greater social equality.

The first Burns supper was held in July 1801 when nine of Burns' close friends got together to mark the fifth anniversary of their friend's death. It took place at Burns Cottage in Alloway and included a meal of haggis and performances of Burns' work. That first Burns Supper also included a speech in honour of the great bard (poet), which is now known as 'The Immortal Memory".

There are more statues, monuments and memorials dedicated to Robert Burns than any other non-religious figure, after Queen Victoria and Christopher Columbus.

Robert Burns' poetry is said to have inspired some famous American writers, specifically John Steinbeck's 1937 novel 'Of Mice and Men' which was inspired by a line in the Burns' poem 'To a Mouse'.

It is claimed that Michael Jackson's smash hit Thriller was inspired by the Tam O'Shanter poem.

Burns was the first person to ever feature on a commemorative bottle of Coca Cola.

Legendary artist Bob Dylan revealed that 'A Red, Red Rose' by Burns is his source of greatest creative inspiration.

Burn's popularity stretches much further than Scotland. At pedestrian crossings in Japan, the sound indicating that a walker can cross is a rendition (version) of Coming Through the Rye.

One of the most famous US presidents Abraham Lincoln could recite Burns' works by heart.

A global success with works that have stood the test of time, it comes as a surprise that Robert Burns died a very poor man. He was thought to have just £1 to his name when he passed away.
David
* photo: Alexander Nasmyth, Public domain, via Wikimedia Commons
---
Christmas Quiz
Friday, 18th December 2020 on 18-Dec-2020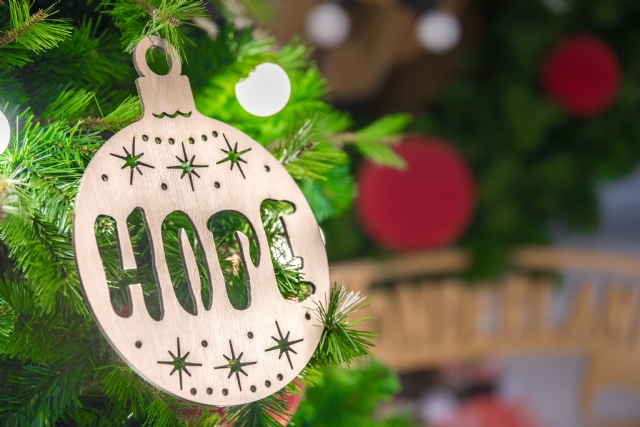 Merry Christmas and a Happy New Year!
We all hope you have a wonderful time this holiday season and stay safe.
This year a group of ESOL learners (who are fans of a good quiz!) have prepared some tricky questions about Christmas. Grab a cup of hot chocolate and enjoy the challenge!
CHRISTMAS QUIZ QUESTIONS:
1. Name 3 nativity characters.
2. Where did Joseph, Mary and Jesus travel to after leaving Bethlehem?
3. What year was the first recorded Christmas celebrated?
a) 446
b) 336
c) 338
d) 543
4. What year did Christmas become a public holiday in Scotland (after it was banned for some time)?
a) 1800
b) 1958
c) 1900
5. Which country started and spread the tradition of decorating Christmas trees?
6. What century did the tradition of decorating Christmas trees become popular?
a) 17th b) 15th c) 16th d) 14th
7. Where in London is the world's most famous Christmas tree?
8. What was 'yule vacation' in the past in Scotland?
a) Easter
b) Christmas
c) New Year
9. What does Santa Claus drink on Christmas Eve in the UK?
a) wine
b) whisky or sherry
c) milk
10. When does Santa Claus bring presents in the UK?
11. Which year was the first Christmas card printed?
a) 1842
b) 1843
c) 1844
12. When did the first Christmas crackers appear?
a) Victorian times
b) Elizabethan times
c) Albertine times
13. What do the British people traditionally do at the start of a Christmas dinner?
a) sing carols b) pull Christmas crackers c) gift presents to each other
14. Who is a helper of Santa?
a). Elf b) Gnome c) Troll
15. When is the annual Queen's Christmas Message?
16. What is the most popular Christmas carol in the UK?
ANSWERS
1. The most important are: Baby Jesus, his mother, Mary, and her husband, Joseph. Then we have shepherds, sheep, angels, a donkey, an ox, and the three wise men and their camels.
2. Egypt
3. b)336
4. b) 1958
5. Germany
6. c) 16th
7. Trafalgar Square
8. b) Christmas
9. b) whisky or sherry
10. At midnight on 24th December (his arrival may be delayed if the children are not in bed.)
11. b) 1843
12. a) Victorian times
13. b) pull Christmas crackers
14. a) Elf
15. On Christmas Day
16. O Holy Night
Photo by Arisa Chattasa on Unsplash
---
Bag of Rocks
Monday, 12th October 2020 on 12-Oct-2020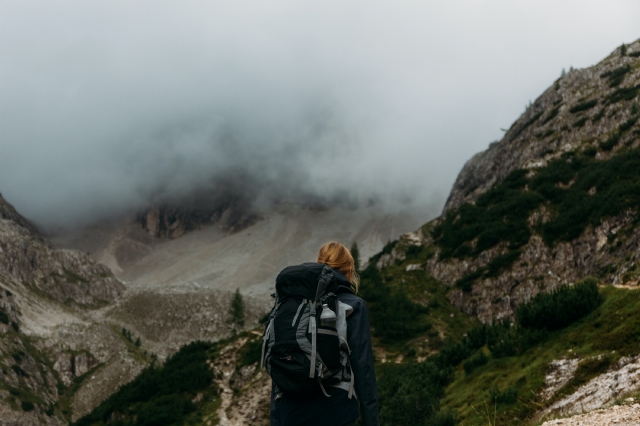 Life can be stressful. Everyone feels stress sometimes.
Some stresses are big, some are small.
Many people come to Britain with hope for the future AND difficult memories from the past. Difficult memories from the past can be like heavy rocks that we carry with us. Stress in Britain can cause us to carry more heavy rocks in our bags.
When we have a lot of bad memories and stress, our invisible bag of rocks is HEAVY.
Some rocks can be big and heavy and stay in your bag for a long time.
Some rocks may feel smaller and lighter. If we have too many small rocks, they can be difficult too.
When our bag is heavy, it is difficult to do what we need to do. We think about the heavy rocks a lot.
Sometimes when people come to a new country, they think they can leave their bag of rocks behind. But stress in the new country can add more rocks. It can cause people to think a lot about all of the rocks that they carry in their bag.
We can do things to make our bags of rocks lighter.
We don't have to carry our rocks alone.
Remember to talk to your loved ones and friends. If that is difficult to do, there are many places where we can get mental health information and support.
➡ http://breathingspace.scot 0800 83 85 87
➡ Samaritans 116 123 - volunteers who will listen or talk through your worries (available 24 hours)
➡ NHS urgent mental health helpline 111
** 'Bag of Rocks' based on Virginia Adult ESOL Health Literacy Toolkit © 2012 VALRC
---
My Garden
Thursday, 23rd July 2020 on 23-Jul-2020
One year ago we moved to a new house with a big garden. When we came here the garden was in a really bad condition. It was overgrown and cluttered. We have been so busy to tidy the garden, we have done a lot but I still have lots of plans for it.
This year I have planted some vegetables and flowers. Also, I have planted some strawberries in our greenhouse. We have several trees here and you can hear birds singing beautifully in the early morning or see some colourful butterflies. Also, if you are lucky, you can see some mice! A stream flows behind the fence and that gives some beautiful views.
On the left side of the garden, there is a trampoline and a sandpit for our children. At the back of the garden, there are swings and a gazebo - a place where my husband and I love to relax and watch the kids run and have a good time. We love our big garden and we love to spend time together, especially in the summertime.
Monika
(*photo by Monika)
---
Six Cities, Eight Days
Friday, 3rd July 2020 on 4-Jul-2020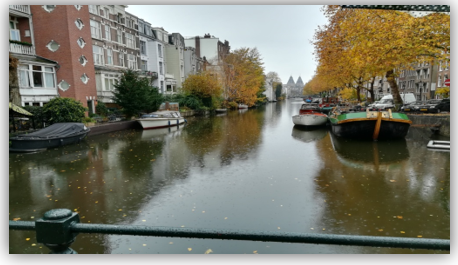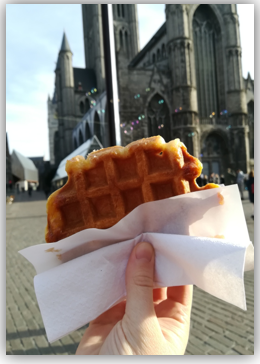 In the last three years, I have visited a lot of countries. Each country has its own beauty and many sensational places where you could go to. My favourite journey was two years ago with my partner. After we spent a lot of time to find both the cheapest destination and the most magnificent place, we decided to visit two countries within eight days. These countries were the Netherlands and Belgium and we planned to visit three cities from each country.
First, we arrived in Eindhoven, where we stayed only for one night. We were incredibly lucky because the day we landed they had plenty of Christmas events. The downtown was crowded and the Christmas spirit was in the air. The next day, we left from Eindhoven and we headed to Amsterdam. We really enjoyed the walks along the canals and shopping from the farmers market. We spent two days in Amsterdam before we went to Rotterdam. Not only did we visit some popular sights, but we also visited a friend who lives there. The fourth day we went to magnificent Ghent. Even though we stayed for one night, Ghent was definitely my favourite city. Both the walks along the river and the food were gorgeous. The fifth destination was Bruges which is like Ghent. As a huge fan of beer, Bruges was the best place to taste good quality beer and visit some well-known breweries. The last place where we visited was Brussels. The fact it was bustling made me feel distraught. Furthermore, we were very tired so we didn't enjoy our last place.
Despite the journey sounding expensive, with the right plan, you can spend less money than you think. Moreover, it is a huge experience to visit new countries and see different cultures and taste their cuisines.
Evangelia
(*photos by Evangelia)
---
Haar
Friday, 19th June 2020 on 19-Jun-2020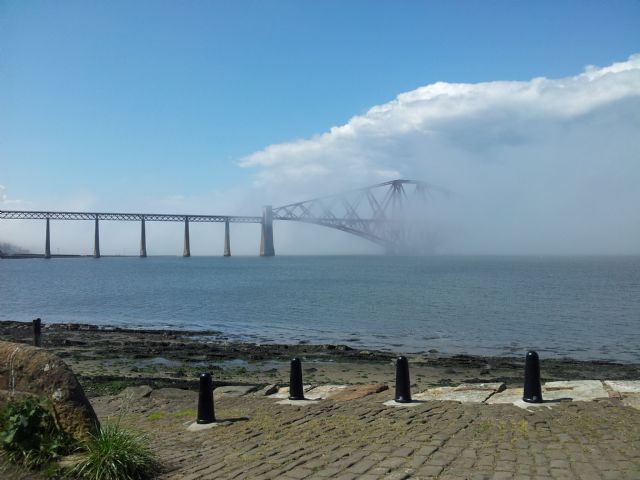 As the restrictions on movement are eased the weather has become less enticing, at least along the east coast. Here is a short explanation which doesn't make things any brighter but it explains why they are not brighter.
After many weeks of mainly dry and sunny weather, it has changed and we have had a week or more of cold, misty, damp weather. This is caused by haar. ( /hɑː/ )
Haar is a cold sea fog. It occurs most often on the east coast of Scotland and North-east England between April and September. Haar is usually formed over the sea and is blown onto the land by an East wind. This commonly occurs when warmer moist air moves over the cooler North Sea causing the moisture in the air to condense, forming haar.
Sea breezes and easterly winds then bring the haar into the east coast of Scotland and North-East England where it can continue for several miles inland. This can be common in the UK summer when heating of the land creates a sea breeze – a wind blowing from the sea onto the land - bringing haar in from the sea.
The result can be cold, damp, dull weather along the coast but a few miles inland, and sometimes only a few hundred metres inland, it can be warm and sunny.
As it becomes warmer during the day the heat of the sun can thin or "burn off" the haar which might return later in the day as the sun gets lower in the sky, and at times it can also appear and disappear as the tide comes in and goes out.
David
photo: Wikipedia, Cmagowan / CC BY-SA (https://creativecommons.org/licenses/by-sa/4.0)
---
Sport
Monday, 25th May 2020 on 25-May-2020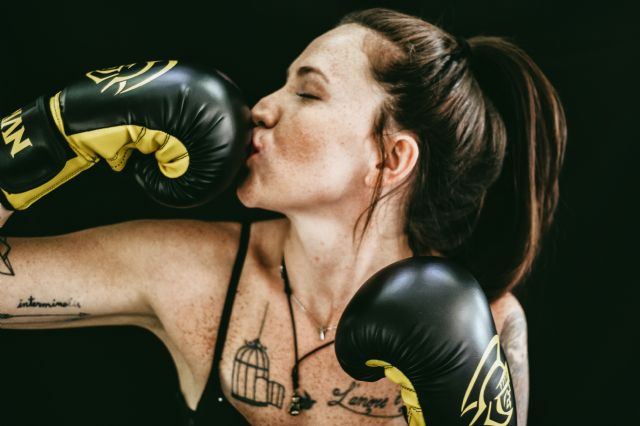 I love sports. In Portugal, I did boxing for 2 years. Now, I have stopped boxing but I still like doing sports every day. I like walking on the beach, playing football, and I like basketball. I also go to the gym every day. I started going to the gym because my body needs some activity. The gym is my therapy: it's good for my body, for my mind and it's good for a nice sleep.
I watch many sports on tv: football, basketball or dancing competitions. In the future, I would like to try kickboxing. I have never tried it but it is going to be my next sport. It is different from boxing - in kickboxing you need both your legs and your hands.
My life is different because of sports and exercise.
Ana
(*Photo by Matheus Ferrero on Unsplash)
---
'Where Are We in Fife?' Quiz
Wednesday, 6th May 2020 on 6-May-2020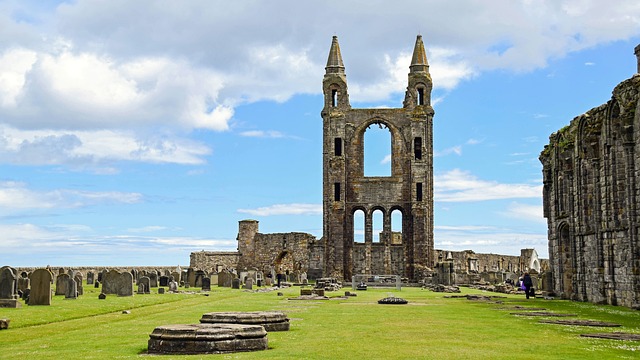 Have you been missing going out and visiting new places? We have for sure! Thank goodness the internet can help with some virtual travelling. If you are up for some fun, take a look at this quiz designed by Fife Centre for Equalities. How many towns in Fife can you recognise?
https://forms.office.com/Pages/ResponsePage.aspx?id=D1XLCygShkyV9zcjKSrKaaY2stFKT15Ltt4tEjLC7TZURTUxMEgySjlaUTVJT084MzNSV1dWODBLVyQlQCN0PWcu
---
How to Celebrate Religious Holidays Virtually?
Friday, 10th April 2020 on 10-Apr-2020
This April has some of the most important religious celebrations of the year, such as Passover, Easter, Vaisakhi and Ramadan. How can we celebrate when we have to stay at home?
Here is a video clip from the BBC news website with some tips from people of different faiths around the world (click on the link to go to the BBC page):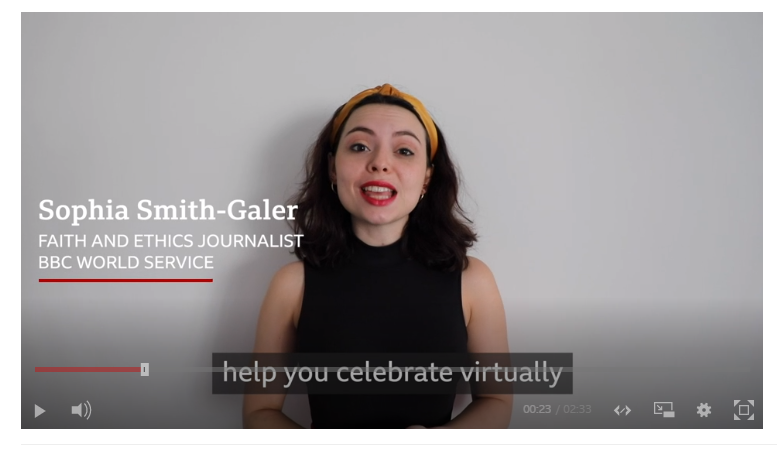 https://www.bbc.co.uk/news/av/world-52234125/how-to-celebrate-some-of-the-most-important-religious-celebrations-of-the-year-virtually
Four Religious Festivals.
Every year, Jews celebrate the Feast of Passover. It starts on the 15th day of Nisan in the Hebrew calendar and lasts for 7 or 8 days. In 2020, the festival of Passover starts on Wednesday, 8 April and ends on Thursday 16 April.
It is one of the most important religious festivals in the Jewish calendar. Jews celebrate the Feast of Passover (Pesach) to commemorate the liberation of the Israelites who were led out of Egypt by Moses.
According to Exodus the Israelites had been slaves in Egypt for 210 years, and God promised that he would release them from slavery.
This would only happen after the Egyptian Pharaoh had refused their release and God had released 10 plagues on Egypt to demonstrate his power. For the 10th plague an angel would kill the first-born son in every house. To avoid Israelite children being killed, each Israelite household was told to slaughter a male lamb at twilight. Blood from the lamb was brushed on the door frames. This would let the angel know that it was an Israelite home and to 'pass over'.
Following the 10 plagues, the Pharaoh ordered Moses to immediately take his people out of Egypt. The Israelites packed and left immediately without having enough time for their bread rise – for this reason, unleavened matzah bread is eaten at Passover instead of risen or grain products.
Traditionally, the first night of Passover typically includes a ritual meal called the Seder – Hebrew for "order", reflecting how the feast is served in an order set out in the Passover Haggadah, a Jewish instructional text.
Passover is also called The Festival of Freedom and is a celebration of freedom, not just in Biblical times, but of its importance to the individual today and throughout history.
Easter is the most important festival in the Christian calendar. It celebrates Jesus rising from the dead, three days after he was executed.
The date of Easter Sunday varies from year to year. It is celebrated on the first Sunday after the full moon, on or after 21 March. The week leading up to Easter is called Holy Week. This year, 2020, Good Friday is on 10th April, Easter Sunday, 12th April, and Easter Monday on the 13th April.
Easter Sunday marks Jesus's resurrection. After Jesus was crucified on the Friday his body was taken down from the cross and buried in a cave tomb. The tomb was guarded by Roman soldiers and an enormous stone was put over the entrance.
On Sunday, Mary Magdalene and some of Jesus's disciples visited the tomb. They found the stone had been moved and that Jesus's body had gone. Jesus was seen later that day by Mary and the disciples, and for forty days afterwards by many people. His followers realised that God had raised Jesus from the dead. Christians call this the resurrection.
Easter eggs are used as a symbol for the resurrection of Jesus. The hardboiled eggs would be rolled down a hill until the shell broke and the egg was then eaten. Rolling an egg is a symbol of the stone over the entrance to Jesus's tomb being rolled away.
Nowadays, most Easter eggs are made from chocolate and covered in coloured foil. Traditionally though, chicken eggs would be hard boiled and then decorated by hand. Traditional Easter egg hunts remain popular with both Christian and non-Christian children.
Vaisakhi / Baiksakhi, which is celebrated among Hindus and Sikhs, is a spring harvest festival that's celebrated on the 13th or 14th of April (Gregorian calendar) every year.
The story of Vaisakhi, is that Guru Gobind Singh challenged any Sikh who was prepared to give his life. In a crowd of about a thousand people, five people volunteered in total. The Guru, instead of killing the volunteers, baptised them with "Amrit" and formed a five-member group of saint-soldiers called "Khalsa". These five men representing the Khalsa were known as the Five Ks signifying Kesh (hair), Katchera (underwear), Kangha (comb), Kirpan (sword), and the Kara (steel ring).
Following that fateful day, the spraying of nectar or "Amrit" has become a common practice during the ceremonial baptisation of Sikhs.
In Hinduism, Vaisakhi is observed as the New Year's Day and is celebrated with splendour in some of the states of India.
People dance, sing and wear new clothes to celebrate the festival and prepare holiday meals and sweets and share among themselves. It has been a special day for Sikhs, who carry processions and celebrate the day with great fanaticism.
Sikhs wake up early in the morning, wear new dresses and make a visit to the nearest gurudwara to submit special prayers. Gurudwaras are the best places that hold the real beauty of Vaisakhi. They are completely decorated and conduct Kirtanas to attract many people.
The symbols of the festival include the Kirpan, which is sword; the Kesh, which is uncut hair; the Kara, which is steel ring; the Kangha, which is the comb; and the Katchera.
Ramadan is the 9th month of the Islamic calendar and lasts 29 to 30 days, depending on when the moon is sighted at the end of the month to signal the following month – Shawwal. This year, 2020, it will begin on 23rd April and end on 22nd May.
The Quran was revealed during the holy month and in Ramadan many Muslims give charity to the poor, attend mosque for additional prayers during the evening and attempt to complete the entire Quran. However, many know Ramadan as the month in which Muslims fast – abstain from eating and drinking anything from dawn to sunset.
Fasting is one of the 5 pillars of Islam – the 5 things that every Muslim must do as it makes up the foundation of the religion. The 5 pillars are, - Profession of Faith (shahada). Prayer (salat). Alms (zakat). Fasting (sawm). Pilgrimage (hajj). Muslims fast in order to become closer to Allah.
During Ramadan, because they are told to abstain from certain things, by doing so Muslims are reminded that often those things are taken for granted. Whether it's delicious foods or something as simple as water, people become conscious of all that they have. This reminds them of those who, every other day, are not as fortunate as themselves, and that causes feelings of compassion and empathy.
Ramadan is a month of peace, understanding and truly getting in touch with your creator.
David.
---
Stay Home, Protect the NHS, Save Lives!
Thursday, 26th March 2020 on 26-Mar-2020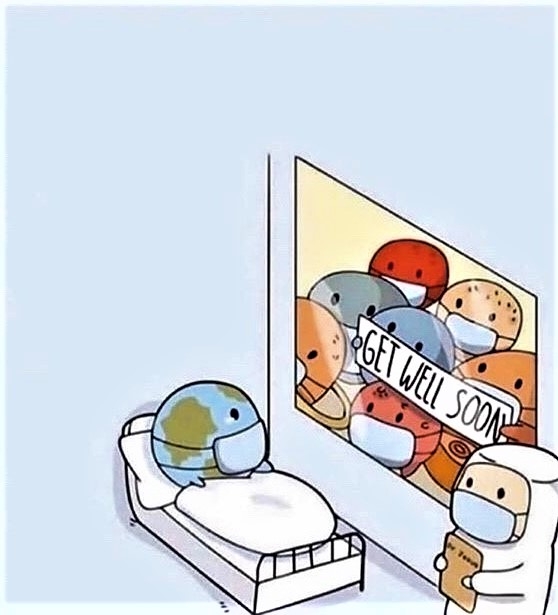 IMPORTANT INFORMATION ABOUT COVID 19 TRANSLATED TO 60 LANGUAGES:
https://www.doctorsoftheworld.org.uk/coronavirus-information/?fbclid=IwAR3suiAKc-gs5Z_-7euVt9mWQt6o8PNu0tgzJ55M6zy37M2SVx1WzM90SIE#
Stay at home to stop coronavirus spreading
Everyone must stay at home to help stop the spread of coronavirus.
You can only leave the house if you must:
shop for basics, for example, food and medicine (do not do this often!)

one form of exercise a day, for example, a run, walk, or cycle – alone or with members of your family

any medical need, or to provide care or to help a vulnerable person

travelling to and from work, but only where this absolutely cannot be done from home
These 4 reasons are exceptions – even when doing these activities, you should be minimising time spent outside of the home and ensuring you are 2 metres apart from anyone outside of your household.
How to stop the infection spreading
DO:
wash your hands with soap and water often – do this for at least 20 seconds

use hand sanitiser gel if soap and water are not available

wash your hands as soon as you get back home

cover your mouth and nose with a tissue or your sleeve (not your hands) when you cough or sneeze

put used tissues in the bin immediately and wash your hands afterwards
DON'T:
do not touch your eyes, nose or mouth if your hands are not clean
Looking after your health and wellbeing
To help yourself stay well while you're at home:
stay in touch with family and friends over the phone or on social media

try to keep yourself busy – you could try activities like cooking, reading, online learning and watching films

do light exercise at home, or outside once a day
What to do if you need medical help
If you need medical help for any reason, do not go to GP surgery, pharmacy or hospital!
If you have symptoms of coronavirus (high temperature or a new, continuous cough), use the 111 coronavirus service.
If you need help or advice not related to coronavirus:
for health information and advice, use the

NHS website

or your GP surgery website

for urgent medical help, use the

NHS 111 online service

– only call 111 if you cannot get help online

for life-threatening emergencies, call 999 for an ambulance
Do not leave your home if you have coronavirus symptoms!
Do not leave your home if you have either:
a high temperature – this means you feel hot to touch on your chest or back (you do not need to measure your temperature)
a new, continuous cough – this means coughing a lot for more than an hour, or 3 or more coughing episodes in 24 hours (if you usually have a cough, it may be worse than usual)
To protect others, do not go to places like a GP surgery, pharmacy or hospital. Stay at home.
Use the 111 online coronavirus service to find out what to do.
For more information on self-isolation go to:
https://www.nhs.uk/conditions/coronavirus-covid-19/self-isolation-advice/
Government information and advice:
NHS Advice in Scotland:
https://www.nhsinform.scot/illnesses-and-conditions/infections-and-poisoning/coronavirus-covid-19
---
Weddings
Tuesday, 10th March 2020 on 6-Mar-2020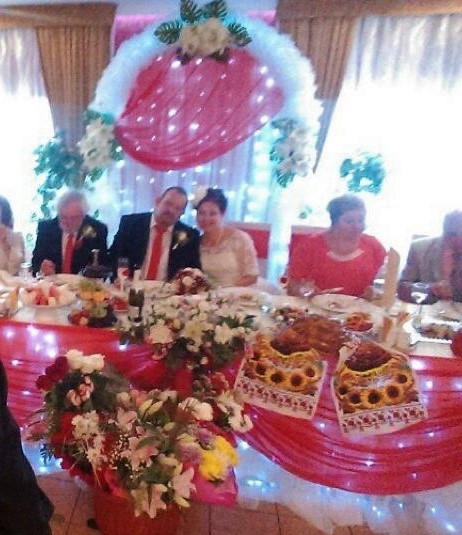 Today I'd like to write about Russian and Scottish weddings.
The first wedding I went to in Scotland was when my husband's niece Sandra got married to Garry. We had to travel from Russia to Scotland for the wedding. Before coming to Scotland my husband chose the menu and paid for it. The young couple's wedding was in a hotel. When we arrived we thought it was a nice hotel and we had our own room for the night. We met Sandra and Garry and the other guests. All together we took some photos. For me it was like in a movie, it was a nice wedding reception. But it was strange for me that nobody had any bouquets of flowers for the bride. Then lunch started and waiters brought in the food. If you hadn't finished your food completely and left something on your plate, the waiters took it away very quickly! After that, the tables were removed for the dances. Nobody except for the bride and the bridesmaids danced.
In Russia wedding celebrations start at home. They're called 'a buyout'. The bride is at home waiting for the groom to arrive with his friends, and he usually comes in a limousine. When he arrives he shouts outside for the bride to come out to see him. The bridesmaids have a special quiz that the groom has to know the answers to, for example what was the date of their first meeting. The questions are a surprise test so if he doesn't remember he has to pay! Sometimes the groom needs to spell out the bride's name with the banknotes he has on him. Sometimes he has to dance, sometimes he has to guess his love's lips from the shapes of different lipstick marks. Every time he doesn't know the solution, he has to pay. After this everyone meets in the bride's home, they have a bit of food (and a bit of vodka) and the parents of the bride give their blessings to the young couple. They also gift them an icon.
Later, the bride and the groom drive to the registrar's office. At the reception, the newlyweds dance their 'first dance' and take photos with all the guests. There are lots of bouquets! Then, the newlyweds and their close friends leave the reception and go to some nice famous places to take more photos. In the evening everybody else waits for the newlyweds in the restaurant to return from the photoshoot.
There is a host of the wedding reception who follows a special programme of the reception planned with the bride and groom beforehand. She announces the arrival of the newlyweds to the hall. The hall is beautifully decorated - on all tables there are some lovely dishes and drinks. The newlyweds' table stands out with beautiful flowers on top.
There is live music all the time, many fun contests, music games, dances, songs, and even some comic scenes are held. In turn, the guests congratulate the newlyweds and give them gifts. The bride and the groom cut a beautiful delicious cake. The bride throws her bouquet for the single women to see who is the next lady to get married. The bride also throws her garter for the single men to see who will be married next. Everybody gets excited!
The last dance of the bride with her father looks very beautiful. The guests tell the newlyweds beautiful wishes. The newlyweds thank the parents and all the guests. Everyone is invited to the second day of the wedding.
Tanya
*photo from Tanya's album
---
My Favourite Place
Friday, 6th March 2020 on 2-Mar-2020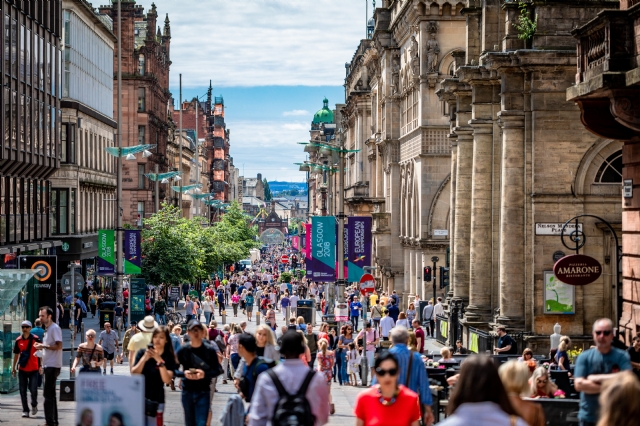 My favourite place in Scotland is Glasgow.
The weather there is mild and the people are very friendly. I read in a book that Glasgow had been founded by the Celts. I have been to Glasgow many times. I go shopping or tour the city with my children. We have eaten in different restaurants and the food has been good. I usually travel through Glasgow when I go to Ireland. When I first visited it, it was so lovely; the weather was very hot. I did not get to see any animals when I was there.
Mary
*Photo by Artur Kraft on Unsplash
---
Meet Our Students: Mounir
Monday, 17th February 2020 on 13-Feb-2020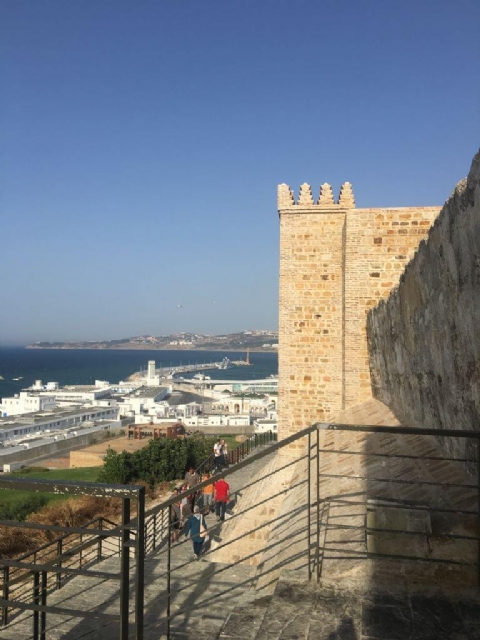 My name is Mounir Drina. I am from Morocco. I'm 35 years old. I live with my wife in Cupar, Fife. I have moved to Scotland to live with my wife. My first impression of this country was wonderful: people are very friendly and the country is very clean. There are a lot of green spots, life is calm, health and education are very good and law applies to everybody. There is no racism and all people are equal here. Now, I still feel the same about Scotland but I miss my family in Morocco.
Currently I am unemployed. I am a qualified nurse and I would like to work with elderly or disabled people. In my free time I like going to the cinema, watching tv and cooking. I've been studying with ESOL in Fife for 3 months. I really enjoy meeting my classmates, they are very good and friendly. I also enjoy the language and the way our teacher explains it to us and how patient she is with our broken language.
Mounir
photo by Mounir
---
My Garden
Saturday, 15th February 2020 on 5-Feb-2020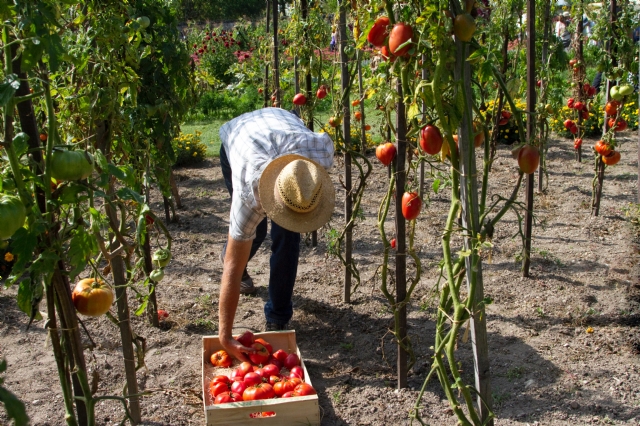 We have a small garden in front of our house. There are many different kinds of flowers. We have red roses, lillies and sunflowers in our garden. My father-in-law loves gardening and tends to our garden every day. My father-in-law grows different vegetables in one side of the garden as well, for example: onions, tomatoes, spinach, green beans, garlic, green chillies.
I like this garden very much. Sometimes I help my father-in-law because I like gardening as well. When I am free I like to sit in our garden because the different colours and smells of the flowers make the garden beautiful. My favourite time to do this is the summer because then the weather is very good and I like hot weather. I would like to have my own garden in the future.
Sehrish
Photo by Kamala Saraswathi on Unsplash
---
My House
Friday, 7th February 2020 on 5-Feb-2020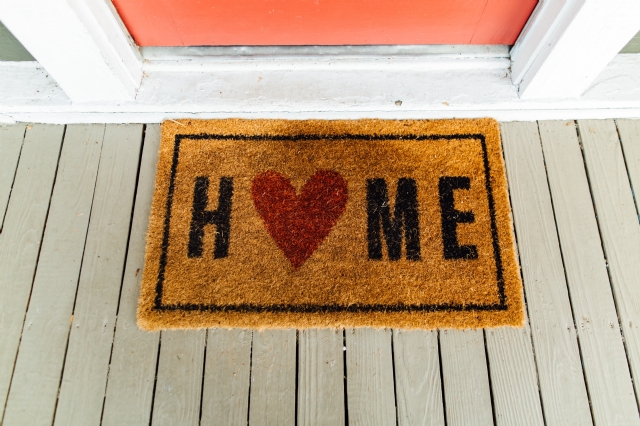 My house is lovely and cosy. We have painted our house a sunny yellow colour but before that it was white and green with brown doors. We have changed the colour of the front door as well. Now it is orangy-red. It's a two-level house with three bedrooms upstairs. Three people live in our house. It's me, my husband and my son. Also, we have two cats.
On the first level we have a kitchen. The kitchen is totally white with some blue, green and yellow accessories. The dining room is light green and white, and the sitting room we are planning to do in yellow and brown colours. This room is going to be our next DIY project. The laundry room is in the garage which is in the garden. The garden is a bit small.
Our house is about 200 years old. It's a warm house with big windows and high ceilings. It's located near the sea. From one side of the house you can see the sea and from another one there is a football pitch and hills in the background. It's very nice to sit in the garden when the weather is warm, enjoy the sunshine and listen to the birds' songs.
I love my house. It always makes me feel secure, relaxed and cosy.
Eleonora
Photo by Kelly Lacy from Pexels
---
My Scotland
Saturday, 1st February 2020 on 31-Jan-2020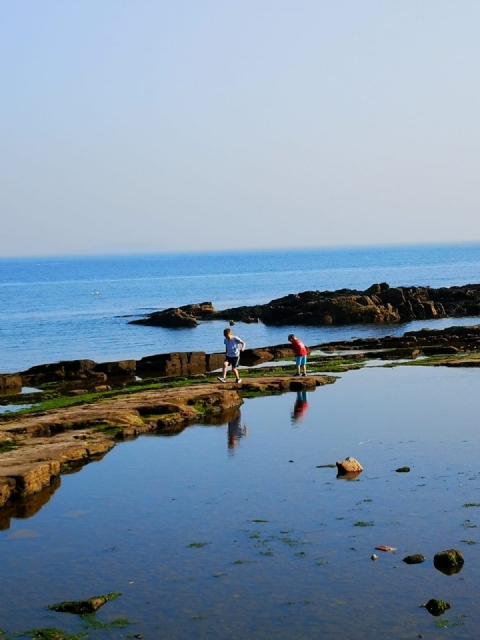 We came to Scotland 13 years ago. We were not married and we didn't have kids. We worked on a farm together. We were delighted with Scotland. Everything was new and different for us. The views were so beautiful and still are until today. We love walking on the beach. In Poland we have a 4-hour-long journey by car to the sea.
It was a little difficult for us to drive a car on the opposite side of the road but only during the first few days. Also, the language was difficult. After the first 2 years we went to Poland for 6 months and got married. Three months after the wedding we came back to live and work in Scotland.
Now we have 3 children and they love Scotland as much as we do. At weekends when the weather is nice we go and visit new places. Our favourite place is the beach in Crail. In the summer time we go there often. My boys also love Craigtoun Park because there is a lot of attractions for kids.
Monika
*photo by Monika
---
We Have Moved to a New Office!
Friday, 17th January 2020 on 18-Jan-2020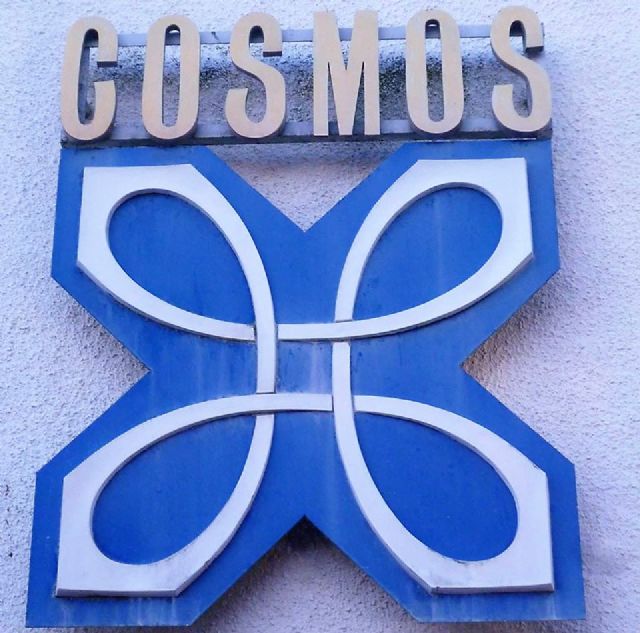 Happy New Year everyone! We hope you had a good holiday season.
Some of you already know that we have moved our office. We used to be based in St Andrews Local Office but just before Christmas both ESOL and ABE (Adult Basic Education) services moved. We now reside in Cosmos Learning Centre, which is a small building next to the main Cosmos Community Centre (please see the photo below). This is also where all our ESOL classes in St Andrews meet.
Our new address is:
ESOL Office
Fife Council
Cosmos Learning Centre
Abbey Walk
KY16 9LB
Looking forward to meeting you there sometime!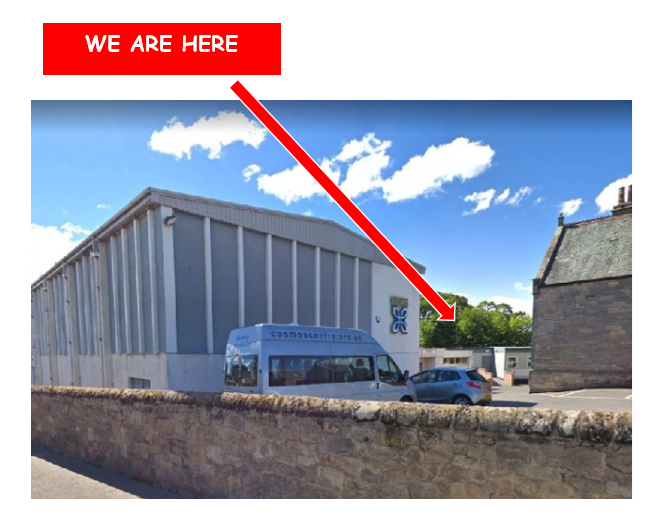 ---
Words Used for Christmas and New Year
Friday, 20th December 2019 on 20-Dec-2019
Between now and New Year you may hear some different words being used for the days around Christmas and New Year, and the traditions associated with them.
Advent Calendar. Advent calendars begin on December 1 and mark the 24 days before Christmas. Today, most Advent calendars include paper doors, one to be opened each day, to reveal an image, or a piece of chocolate, or, if the person who gives you the Advent calendar likes you very, very, very, very, very much, you might find diamonds, gold jewellery, and a ticket for a cruise. (If you do find these you are probably still asleep and dreaming.) The tradition dates to the mid-19th century, when German Protestants made chalk marks on doors or lit candles to count the days leading up to Christmas.
Christmas (25th December) is also written as "Xmas". It was first used in the mid 1500s. "X" is the Greek letter 'chi,' the initial letter in the word Χριστός which means "Christ".
Yuletide is an old word meaning the period of time around Christmas / Xmas.
Boxing Day (26th December) A 'Christmas Box' in Britain is a name for a Christmas present. Boxing Day was traditionally a day off for servants and the day when they received a 'Christmas Box' from their employer. The servants would also go home on Boxing Day to give 'Christmas Boxes' to their families.
Hogmanay (31st December) is New Year's Eve in Scotland and the celebrations that take place there at that time.
There are several traditions and superstitions that should be taken care of before midnight on the 31st December: these include cleaning the house and taking out the ashes from the fire. There is also the requirement to clear all your debts before "the bells" (for example, the ringing of public clock bells) at midnight, the message being to clear out the old year, and welcome in a young, New Year on a happy note.
Immediately after midnight it is traditional to sing Robert Burns' song "Auld Lang Syne" (times long past).
First footing (or the "first foot" in the house after midnight) is still common across Scotland. To ensure good luck for the house the first foot should be a male with dark hair, and he should bring with him symbolic pieces of coal, shortbread, salt, and a wee dram (a small measure) of whisky. The need to have a dark male is believed to go back to the time when the Viking were invading Scotland. The Vikings were thought to be big and blonde, so a large, fair haired stranger on your door step would most likely have a big axe mean trouble, and probably not a very happy New Year!
I hope that will help you to understand some more of the mysteries of the Scottish and UK culture and language.
David.
---
St Andrews Day Quiz
Saturday, 30th November 2019 on 26-Nov-2019

Today is a special day in Scotland and many other countries where St Andrew is a patron saint.
How much do you know about St Andrew and this holiday? Try our quiz to find out!
(Answers below.)
1. St Andrew was one of Jesus Christ's Twelve Apostles. True or false?
2. What was his job?
a. fisherman
b. carpenter
c. baker
3. St Andrew is the patron saint of several nations, including Scotland, Greece, Romania, Ukraine, Russia and...
a. the USA
b. Peru
c. Barbados
d. Brazil
4. The national flag of Scotland is the St Andrew's Cross, but what other name is it commonly known by?
5. How many times did St Andrew visit Scotland in his life?
6. Why is St Andrew a patron saint of Scotland?
7. St Andrew had a 'famous' brother. True or false?
8. Why the town of St Andrews is written without the apostrophe?
9. What does the name 'Andrew' mean?
a. kind
b. honest
c. manly
10. A cèilidh is something that is associated with St Andrew's Day. But what is it?
a. A type of food
b. A type of clothing
c. A type of party
ANSWER KEY:
1. True. Andrew was one of the original 12 apostles of Christ. He lived and worked in Galilee.
2. A.
3. C.
4. The Saltire.
5. St Andrew never visited Scotland in his lifetime.
6. St Andrew's connection with Scotland relates to a legend saying some of his remains were kept in a town now known as St Andrews. The relics of the saint (a few parts of his body) were apparently brought to Fife in the fourth century by St Regulus, a monk from Greece. St Regulus is said to have had a dream in which he was told by an angel to take some of St Andrews's hidden bones "to the ends of the earth". The monk took them to Scotland, landing at a place that became the town of St Andrews.
7. Andrew and his brother Simon Peter were both fishermen when called to serve Jesus. Simon Peter went on to become the first leader of the early Christian Church.
8. The town of St Andrews has no apostrophe in its name because it was founded long before possessive apostrophes were introduced into English!
9. C.
10. C - it's a party. A cèilidh (pronounced kay-lee) is a big party with music, singing and traditional Scottish country dancing.
---
'Multilingual Living' - Blog Recommendation
Wednesday, 6th November 2019 on 2-Oct-2019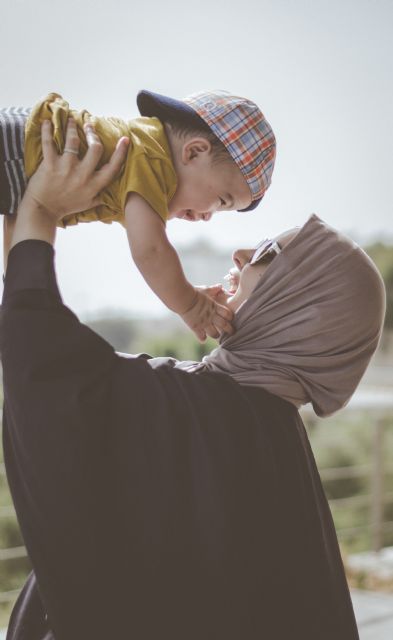 How many languages does your family use to communicate? Have you been worried about your children not having enough English to go to nursery or school? Do you worry about your children not speaking your first language? These thoughts are natural and experienced by many parents in bilingual and multilingual families. Here is a blog with many interesting articles that may put your mind at ease and help you bring up happy multilingual children.
The blog is called Multilingual Living. You will find it by clicking on this link:
http://www.multilingualliving.com/
The blog's authors say: 'Multilingual Living is about inspiring. Multilingual Living is about motivating. Multilingual Living is about enlivening. Multilingual Living is about connecting. But most of all…Multilingual Living is about LIVING! It is about living an adventure, a LANGUAGE ADVENTURE, with your whole family, your whole community, your whole world!'
The writers offer lots of tools, ideas and useful advice that will work for learning any language. This is just one example:
'Speak the language as much as possible! My family and I do this all the time without caring whether the words are correctly pronounced or not and whether we know exactly what all of them mean. The language is so very lovely and we love to let it roll off the tongue. Often I will put on a podcast of some random dialog while making dinner, folding the clothes or going for a walk and just repeat the words and sentences whether I recognize them or not.'
The authors of the blog feel very strongly about teaching your children your native language and list many ideas on how to achieve this.
We wholeheartedly recommend reading Multilingual Living and hope you'll enjoy exploring it!
---
Clocks, Halloween and Guy Fawkes
Saturday, 26th October 2019 on 28-Oct-2019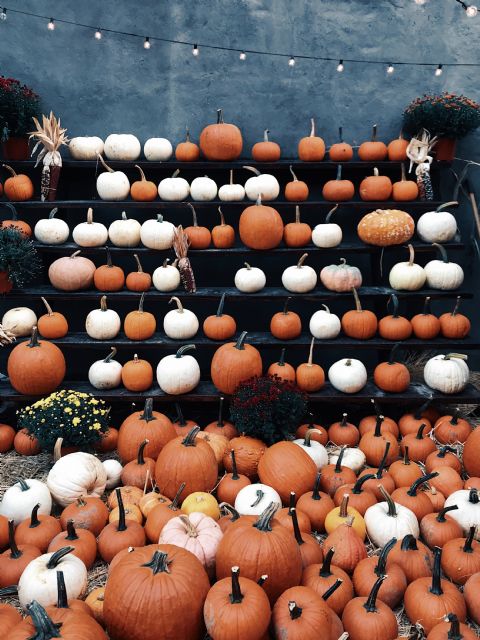 There will be 3 events during the next 2 weeks which may be new to you.
The first is this coming weekend when clocks will be moved back by 1 hour. It will happen overnight on 26 - 27 October. If you have a bus/train/plane to catch on Sunday, or if you just want to lie in bed for an extra hour, move your clocks/watches/etc back by 1 hour before going to bed on Saturday night.
No. 2 is on 31st October and is called "Halloween". It was an ancient festival to mark the end of the harvest season and the beginning of winter.
"Halloween's origins date back to the ancient Celtic festival of Samhain (pronounced sow-in). The Celts, who lived 2,000 years ago in the area that is now Ireland, the United Kingdom and northern France, celebrated their new year on November 1.
Celts believed that on the night before the new year, the boundary between the worlds of the living and the dead became blurred (not distinct/out of focus). On the night of October 31 they celebrated Samhain, when it was believed that the ghosts of the dead returned to earth.
During the celebration, the Celts wore costumes, typically consisting of animal heads and skins, and attempted to tell each other's fortunes."
Over the centuries, Halloween has changed from being a pagan ritual to a day of parties, costumes, lanterns, and treats for children and adults.
People still celebrate the festival by wearing costumes, so if you see a ghost or a witch on 31 October it will be someone in a costume . . . . . . probably!!!!
And no. 3 is on the 5th November, known as "Guy Fawkes Day".
"Guy Fawkes Night celebrates the foiling of an attempt to blow up the Houses of Parliament in London on November 5, 1605. The attack was planned by a group of Catholic conspirators, which included Guy Fawkes. The explosives would have been set off when King James I of England (King James VI of Scotland) and many parliamentary members were in the building. The conspirators were later arrested, tortured and executed."
Some people light bonfires and set off fireworks in their own gardens, and in some towns and cities, the municipality organizes a bonfire and professional firework display in a park.
David.
---
'Sharing Cultures' in Leven
Thursday, 3rd October 2019 on 2-Oct-2019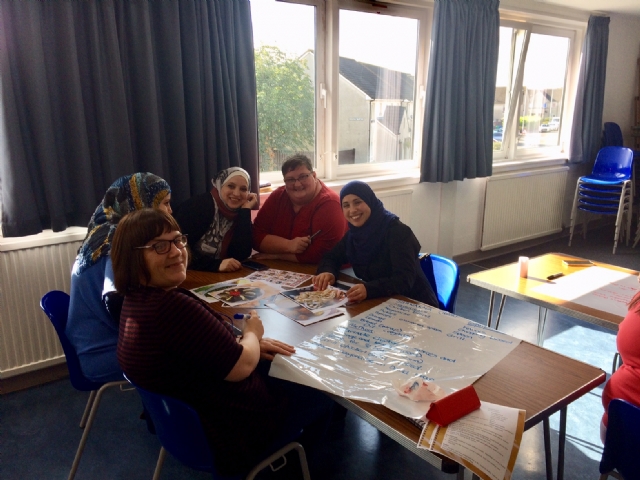 The 'Sharing Cultures' project started as an idea of bringing together ESOL students and members of the local community in the Levenmouth area. So far it's been a success and we're hoping to continue the meetings after the October school holidays.

During the last 5 sessions we:

- learned how to make a delicious (and cheap!) Scottish lentil soup
- prepared Halloween decorations and cards during a crafts session
- discussed different foods from around the world, shared recipes and chose one dish to cook together
- learned how to make a vegetable pakora based on a recipe from Bangladesh. Selina was a star and showed us how she makes her pakora. The other students brought some lovely dishes they had made at home.

Every week we had a laugh and got to know each other a bit better.
Thanks to everyone who took part. We're looking forward to meeting you all again soon!
---
Japchae
Monday, 16th September 2019 on 6-Sep-2019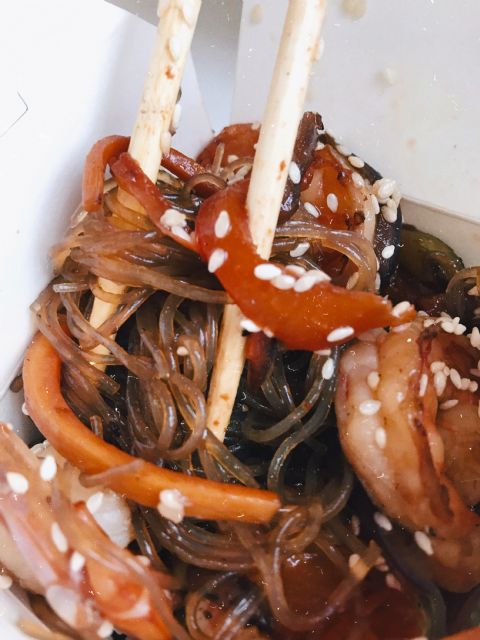 Our end-of-summer International Buffet in St Andrews was lovely and the food our students brought was absolutely delicious. Thank you everyone for coming and sharing your creations!
One of the stand out dishes was a Korean noodle dish, called japchae, made by Ara. Here is some more information and links to two recipies so you can have a go at home.
Ara explains: 'Japchae is Korean glass noodle stir-fry and noodle made with sweet potato starch. Japchae is a very popular Korean dish. It is the number one sought after dish, particularly during the Korean festive holidays (e.g. New Year's Day, Harvest festival season or birthdays). It is also enjoyed on any other common day as well.
Here are two youtube recipe links which have English subtitles and show easy ways to cook the noodle.
First link (original recipe):
Second link (easy recipe):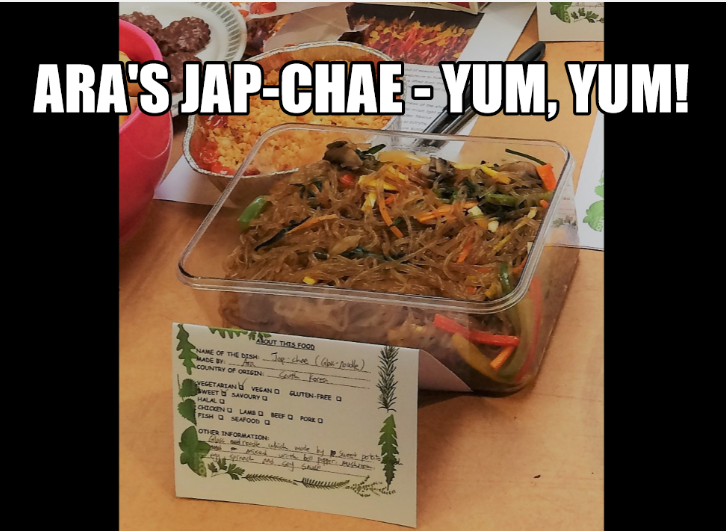 Thank you Ara!
---
Future Learn - new courses online
Monday, 2nd September 2019 on 31-Aug-2019

Welcome back after the summer! Are you ready to study? Why not try a free online course with Future Learn?
Future Learn is an online provider of educational courses. Currently, there are two courses you may wish to sign up for:
1. Exploring English: Language and Culture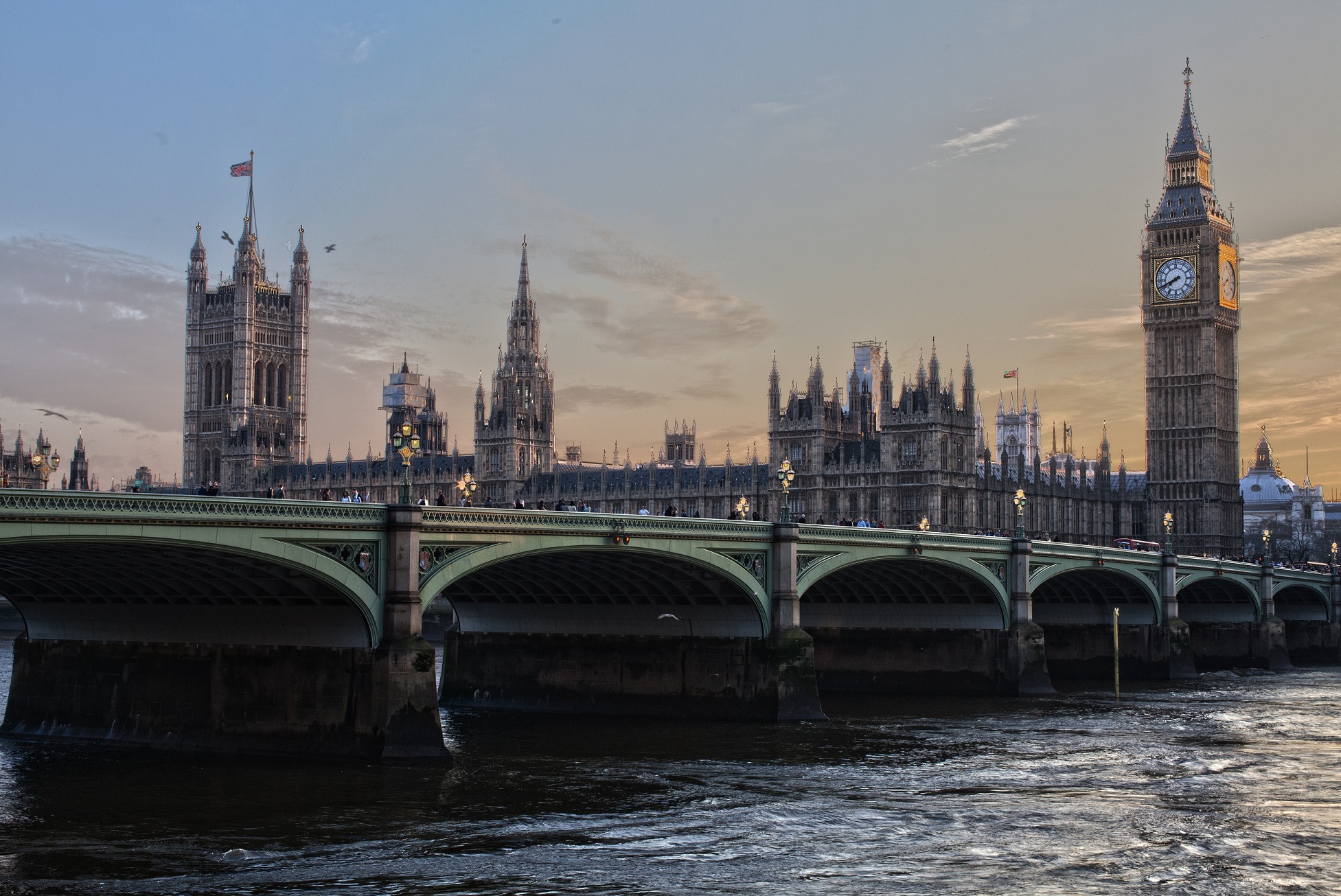 This course is for learners who have studied English up to the level B1. It looks at British culture and examines English in use to help you improve your language skills. The course starts on 9th September. To find out more and to book your place click on the link below:
https://www.futurelearn.com/courses/explore-english-language-culture
2. English for the Workplace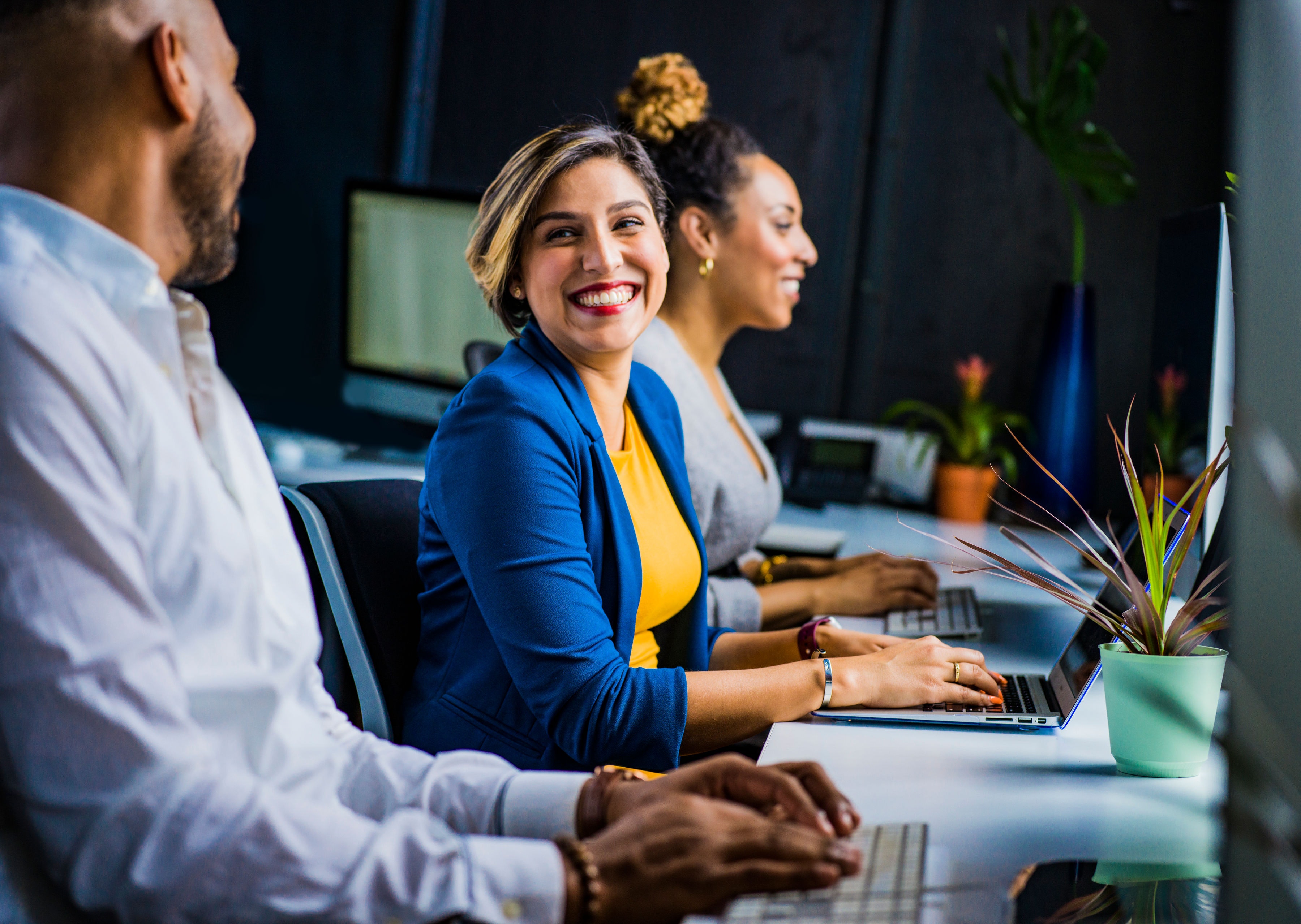 This course will help you with the language needed to find a job and successfully function in the workplace. It is aimed at learners of English at pre-intermediate level (A2). The course starts on 4th November. Click here to sign up:
https://www.futurelearn.com/courses/workplace-english
---
Scottish Summer Quiz
Wednesday, 31st July 2019 on 24-Jul-2019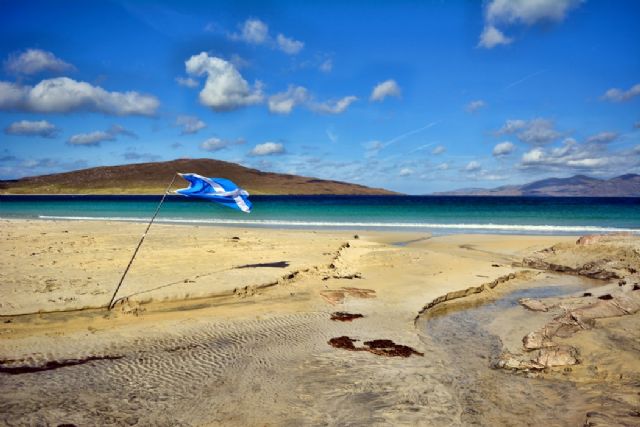 Are you enjoying summer in Scotland? Try our wee quiz on Scottish summer trivia prepared by students in Methil.
Instructions: there are 15 questions in this quiz. Grab a pen and a piece of paper to note your answers. When you finish, scroll down for the answer key and results. Good luck!
1. Is the statement below TRUE or FALSE:
The Edinburgh Festival Fringe (The Fringe) takes place in July this year.
2. Which castle is said to be the most haunted in Scotland?
3. What is the name of the scenic route around the north coast of Scotland, starting and ending at Inverness Castle? Choose the correct answer:
A. Route 66
B. The North Coast 500
C. Fife Coastal Path
D. The North Coast 300
4. What is being described here?
'It takes place every summer in Edinburgh Castle Esplanade and it involves military bands' performances.'
5.What is the name of the world famous lake in Scotland and why is it so well-known?
6. Is the statement below TRUE or FALSE:
The average summer maximum temperature in Scotland is 15–17 °C.
7. What do we call the annoying small flying insects that can bite and spoil your trip in Scotland?
8. In which Scottish town is the most famous Fish & Chips bar, claiming to be 'the home of the best fish&chips in Britain*!' (*probably)?
A. St Andrews
B. Anstruther
C. Dunfermline
D. Crail
9. Name at least one white sand beach in Scotland.
10. The most northern group of Scottish islands is:
A. the Faroe Islands
B. the Orkney Islands
C. the Hebrides
D. the Shetland Islands
11. What is the name of the large forest and nearby beach near Leuchars and Tayport?
12. Which event is NOT part of the traditional Scottish Highland Games:
A. caber toss
B. stone put
C. weight throw
D. long jump
13. Which animals can you see on the Isle of May, off the coast of Fife? Name at least two.
14. Which village in Fife is being described here:
'In this small and friendly village, the harbour's fishing boats, steep wynds and quirky cottages provide a picturesque backdrop as more than 100 artists from all over Britain exhibit their work in houses, garages, halls and shops, and on the pier during the annual Arts Festival held in August.'
A. Culross
B. Pittenweem
C. Kingsbarns
D. Lundin Links
15. 'Munro' is the name for a Scottish mountain above which height?
A. 1,000 feet (about 305 meters)
B. 2,000 feet (about 610 meters)
C. 3,000 feet (about 915 meters)
D. 4,000 feet (about 1220 meters)
Answer Key:

FALSE

Glamis Castle

B

The Royal Edinburgh Military Tattoo (the Tattoo)

Loch Ness. It is best known for alleged sightings of the Loch Ness Monster, also known as "Nessie".

TRUE

Midges

B

e.g.: Luskentyre sands (Isle of Harris), Mellon Udrigle (Wester Ross), Camusdarach Beach (Morar), Langamull beach (Isle of Mull), Eoligarry Beach (Isle of Barra), Balnakeil Beach (Durness), Traigh Lar (Isle of Harris), Bhatarsaigh Bay (Vatersay), West Beach (Berneray), The Monks (Iona), the North Coast of Iona

D

Tentsmuir Forest and Tentsmuir Sands beach

D

grey seals, harbour seals, puffins, guillemots, razorbills, shags, cormorants, terns, oystercatchers, eider ducks, seagulls, mice, rabbits, whales and porpoises (occasionally in summer!)

B

C
How did you do? Count your points and find out which category of a holiday-maker in Scotland you fall into:
- if you scored 0-5 points: Baffies aff and go and visit your surroundings! Also reading a wee bit more about Scotland will help!
- if you scored 6-10 points: Guid, half way there! You know a lot but is it enough...?
- if you scored 11-15 points: You must be Scottish! Or are you a tour guide in Scotland? Braw result!
---
Tijuana
Thursday, 18th July 2019 on 29-Jun-2019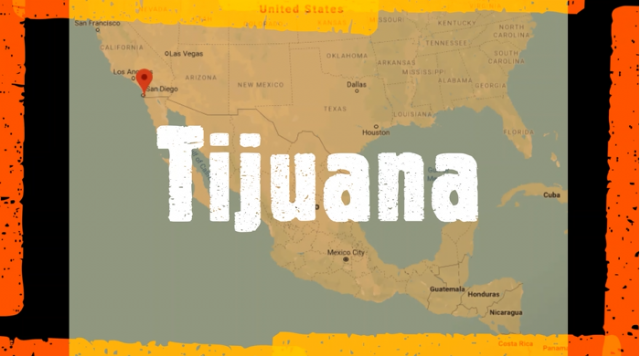 Recently we talked about where we come from and our home towns. Here is Lizbeth, a student from Mexico, describing her home town - Tijuana.
Tijuana is the fourth largest city in Mexico and the most visited border in the world. Now this city is known for its medical tourism, gastronomy and artisan beer. Have you ever tasted the famous Caesar salad? Or maybe a Margarita cocktail? Well, these are 100% inventions from Tijuana.
This city has many options for transportation: taxis, buses, trolleys and Uber - the way you want to discover this marvellous city is up to you.
Tijuana is very popular in the USA - maybe you can see something about Tijuana in "The Simpsons", "The Big Bang Theory", "21 Jump Street", and other Hollywood movies. This started because in the 20's it was illegal to drink beer and smoke tobacco in the United States, and Tijuana had the most famous Casino - "Casino de Aguacaliente".
It is also important to mention that it is the only place in the world where there is a bullring in front of the sea.
Tijuana has been recommended by The New York Times as the eighth best site to visit in 2017. You can traverse the streets of this place and immerse yourself in its multifaceted and vibrant culture.
Lizbeth
P.S. Lizbeth recommends this youtube video if you want to know more:
https://www.youtube.com/watch?v=Hz2SZJNDDBY
---
We Are on Facebook!
Wednesday, 3rd July 2019 on 1-Jul-2019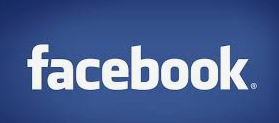 We are now on FACEBOOK!
Our Facebook page is called ESOL Fife, and our logo looks like this:
The page has been developed by Dunfermline ESOL tutors who have been kind enough to share it with the rest of the ESOL community in Fife.
You can keep up-to-date with your classes: if your class is cancelled or we have special events in the summer, we will put information on our page. When you are looking for information about your area, make sure you are using the right hashtag.
We will use:
#ESOLStAndrews
#ESOLCupar
#ESOLAnstruther
#ESOLLeven
#ESOLMethil
#ESOLDunfermline
#ESOLCowdenbeath
#ESOLKirkcaldy
#ESOLGlenrothes
Please 'Like' us :) and keep in touch!
---
EU Settlement Scheme - updates
Tuesday, 2nd July, 2019 on 2-Jul-2019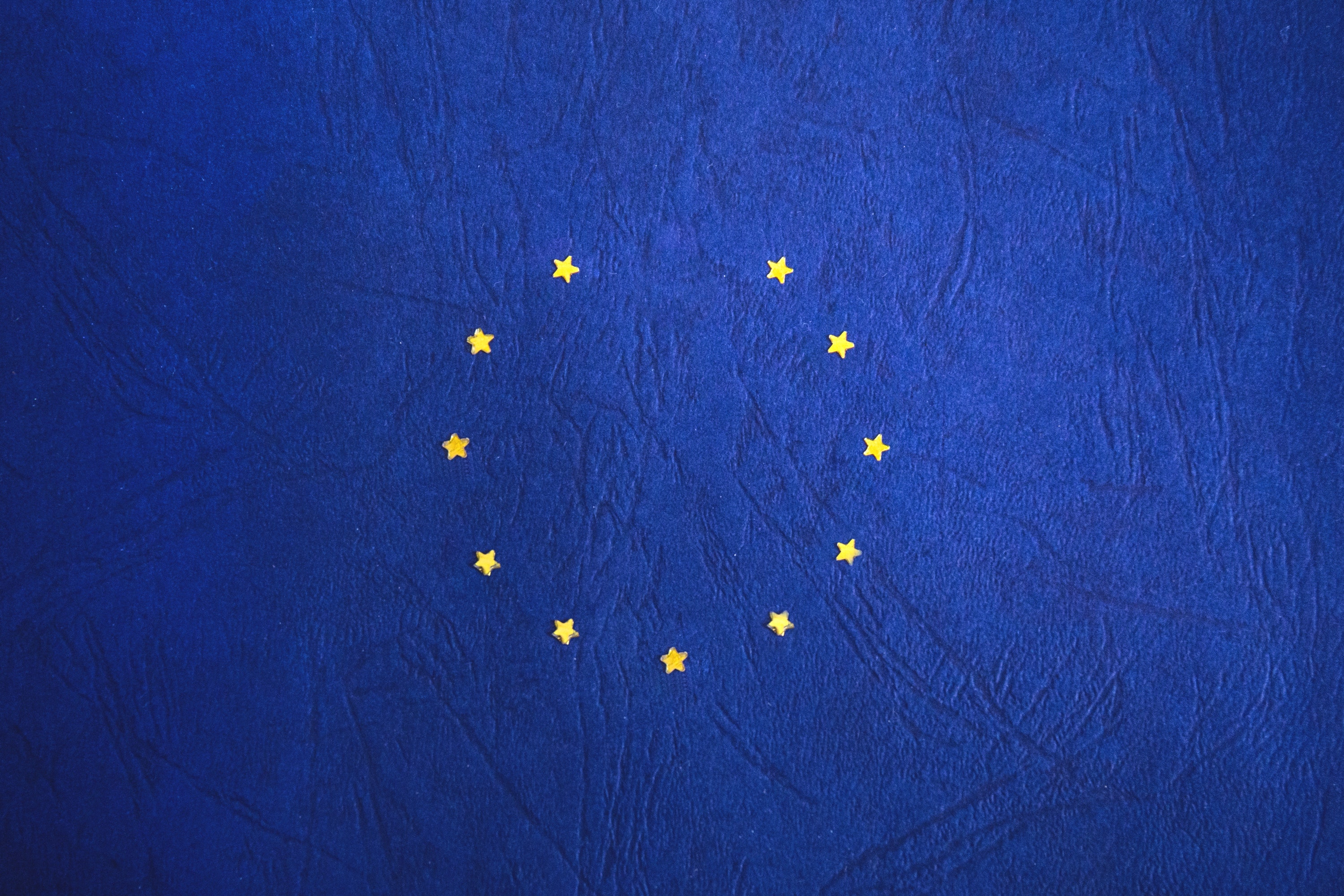 The Government has announced a new online system for people applying for settled status under the EU Settlement Scheme - people coming from one of the EU countries and their families.
Status under the EU Settlement Scheme will be recorded electronically on Home Office systems. If you have applied to the scheme, you can view your status as soon as you get a decision on your application.
You can go to your online profile to:
view your status

understand your rights

update your details
In the future, you'll also be able to prove your rights to others online.
You will not get a paper document to prove your status and rights, as these documents can be open to fraud, be lost or stolen. Help will be available if you have difficulties using the online service.
Click here for more information on how to access your profile on the Home Office website.
---
Summer Solstice
Friday, 21st June, 2019 on 17-Jun-2019
Friday the 21st of June is midsummer day, the day on which the sun rises at its earliest and sets at its latest so we should have the most hours of sunshine. This day is also called summer solstice. Unfortunately, after 21st June the days will gradually get shorter but the weather usually gets better. I have gathered some information about the length of the days and how they change and about some of the places where midsummer is celebrated.
Hours of Daylight
Last December, following a conversation at the ESOL cafe about the change in the length of the days in the
UK between summer and in winter, Kazu and Hiro wrote to me with similar information about Japan.

From Kazu :
'The following ones are Today's sunrise and sunset of Sapporo (the capital city of Hokkaido), Tokyo and
Naha (the capital city of Okinawa):
City sunrise sunset
Sapporo 6:42 16:02
Tokyo 6:29 16:28
Naha 6:57 17:37

As I told you at the cafe today, the time difference between Hokkaido's time and Okinawa's one is not so big;
just 30 minutes or so. But we have some small islands in Japan (some of them are now in serious territorial
issue, though). For example, Etorofu island which is Japan's northernmost island has sunrise time 6:21 and
sunset time 15:24.
Incidentally, Naha's sunrise time and sunset one at summer solstice are 5:37 and 19:25 respectively.
Compared with here, it seems to be quite normal.
Cheers, Kazu '

I began to look for information about the most northerly and the most southerly inhabited places in the UK,
and also the time of sunrise, sunset, and the hours of daylight at the summer and winter solstices.
The most northerly village in the UK is Skaw, on Unst in the Shetland Isles. 60.8 deg North.
At the Summer Solstice, 21 Jun 2019, sunrise is at 03:34, sunset at 22:36, giving 19hrs 02mins of daylight.
At the Winter Solstice, 22 Dec 2019, sunrise is at 09:09, sunset at 14:54, giving 5hrs 45mins of daylight.
(There was a weather station near Skaw which, in Jan 1992, was recording a wind speed of 173 mph when
the insrument blew away!)
The most southerly is St Helier, on Jersey in the Channel Islands. 49.9 deg North.
On 21 Jun 2019, sunrise will be at 05:03, and sunset at 21:17, giving 16hrs 14mins of daylight.
On 22 Dec 2019, sunrise will be at 08:00, and sunset at 16:12, giving 8hrs 12mins of daylight.
The times for St Andrews on those days are, mid-summer 04:21 and 22:04, 17hrs 43mins of daylight,
and mid-winter 08:43 and 15:36, 6hrs 53mins of daylight.
St Andrews is 56.3 deg North, which makes a little further North than Copenhagen, Berlin and Moscow, and
many of the European capitals; considerably North of Japan, Korea, and all of the major Canadian cities;
and about 36 deg North, which is almost 4,000kms, of Mexico City and Hawaii.
For those who fast from sunrise till sunset during Ramadan, the good news is that in 2032 Ramadan is going to take place during the winter solstice and so there will only be 6 hours between sunrise and sunset!
SOLSTICE TRADITIONS

Many cultures, both ancient and modern, celebrate the sunlight with rituals and holidays, and the
celebrations are often associated with Stone Circles and burial mounds.
In the Orkney Islands there is The Ring of Brodgar, close to the Neolithic village of Skara Brae which dates
back to between 3200BC and 2200BC, and in the Hebrides, the standing stones at Callanish.
In Ireland (Eire) there is the 5,200 year old burial mound at Newgrange which is older than the Great
Pyramids at Giza, and in England the well known Stonehenge.

The Ring of Brodgar

Sitting in a natural amphitheatre of hills, the Ring of Brogadar can be found in the Orkney islands. Similarly
to other stone circles, the monument is believed to have been a religious shrine and a place of ritual. The
ring is the third largest stone circle in the UK and is overlooked by the solitary Comet Stone. Just a mile
away sit the four Standing Stones of Stenness, which are 6m in height. These date back to 3100 BC, making
them one of the oldest stone circles in Britain.

http://brodgar.co.uk/2019/02/02/archaeology-in-orkney-map/
The Standing Stones of Callanish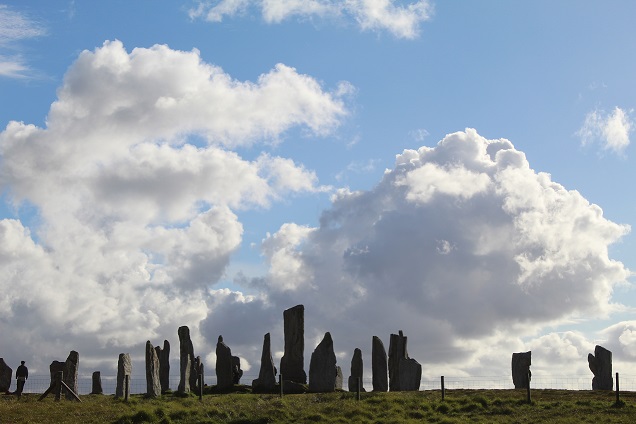 On the west coast of Lewis, the most northerly island in the Outer Hebrides, are the Standing Stones of
Callanish (or Calanais, which is the Gaelic version).
Archeologists tell us that about 3000BC a light structure was erected in the eastern part of the area and it
was generally believed that Callanish functioned as an astronomical calendar associated with the moon and
that it accurately marked the 18.61 year cycle of maximum lunar declination.

https://www.thevintagenews.com/2018/02/13/callanish-stones/
Newgrange

Newgrange was constructed about 5,200 years ago (3,200 B.C.) which makes it older than Stonehenge and
the Great Pyramids of Giza. Newgrange is a large circular mound 85 meters in diameter and 13.5 meters
high with a 19 meter stone passageway and chambers inside. The mound is ringed by 97 large kerbstones ,
some of which are engraved with symbols called megalithic art.
Newgrange is best known for the illumination of its passage and chamber by the winter solstice sun. Above
the entrance to the passage at Newgrange there is a opening called a roof-box. This baffling orifice held a
great surprise for those who unearthed it. Its purpose is to allow sunlight to penetrate the chamber on the
shortest days of the year, around December 21st, the winter solstice. At dawn, from December 19th to 23rd,
a narrow beam of light penetrates the roof-box and reaches the floor of the chamber, gradually extending to
the rear of the chamber.
As the sun rises higher, the beam widens within the chamber so that the whole room becomes dramatically
illuminated. This event lasts for 17 minutes, beginning around 9am. The accuracy of Newgrange as a time-
telling device is remarkable when one considers that it was built 500 years before the Great Pyramids and
more than 1,000 years before Stonehenge.

https://www.newgrange.com/
Stonehenge
Stonehenge, in England, was built in three phases between about 3,000 B.C. and 1,600 B.C., and its purpose remains under study. However, it's known that if you stand in just the right place inside the Stonehenge monument on the day of the northern summer solstice, facing northeast through the entrance towards a rough-hewn stone outside the circle – known as the Heel Stone.
Stonehenge is tied to the winter solstice, too. At Stonehenge on the day of the northern winter solstice (always around December 20), people watch as the sun sets in the midst of three great stones – known as the Trilithon – consisting of two large vertical stones supporting a third, horizontal stone across the top.
In the case of Stonehenge, this great Trilithon faces outwards from the center of the monument, with its smooth flat face turned toward the midwinter sun. In fact, the primary axes of Stonehenge seems to have been carefully aligned on a sight-line pointing to the winter solstice sunset.

This huge megalithic monument shows how carefully our ancestors watched the sun. Astronomical observations such as these surely controlled human activities such as the mating of animals, the sowing of crops and the metering of winter reserves between harvests.
You will find some more information here:

https://www.english-heritage.org.uk/visit/places/stonehenge/history-and-stories/history/
https://theculturetrip.com/europe/united-kingdom/wales/articles/what-you-need-to-know-about-wales-
prehistoric-stone-circles/
https://www.rd.com/culture/fascinating-summer-solstice-traditions-around-globe/
https://www.rd.com/culture/summer-solstice-facts/
David
---
Happy Eid!
Thursday, 30th May, 2019 on 28-May-2019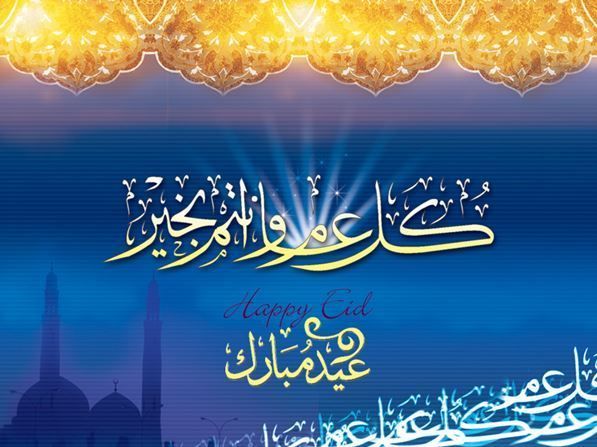 Eid al Fitr is a religious festival celebrated by Muslims around the world. Our students in Cupar talk about how Eid is celebrated in the Arab culture.
Eid al Fitr starts after Ramadan and it lasts for three days. It's a feast when Muslims break their fast after the month of Ramadan. This year it will probably begin on 4th or 5th June but we need to observe the changing moon to know for sure.
Muslims start by praying the Eid prayer in the early morning, then they begin the celebrations. People wear new clothes, some visit family members and neighbours, some people visit family graves. Children get new clothes, gifts, toys, balloons, sweets and even some money – anything to make them happy!
Friends, relatives, neighbours greet each other and all the family gets together. We eat traditional food which you don't buy in a shop but you make at home. Many kinds of delicious biscuits are very popular at Eid. Some people celebrate at home and some people take their children to playgrounds and fairs. 'In Syria some men go and take a bath in public baths!' adds Nader.
Sohaila explains the importance of charity during Eid: 'God commanded us to keep fast until the end of Ramadan. We should then pay 'zakat al fitr' – a small amount of money for the poor - before performing the Eid prayers. At Eid al Fitr we should remember to go to prayer early, show happiness, and give as much to charity as possible.'
Sohaila from Morocco and Nader from Syria compare their notes on the Eid celebrations. 'It's all the same. The celebrations in the Arabic countries are the same. But here, in Scotland, it's very different! People usually stay at home. We miss going out and celebrating in the streets with family and neighbours.'
This text is based on class conversations in Cupar and Sohaila's written text on Eid in Morocco.
---
Learn English with ESOL Nexus
Wednesday, 29th May 2019 on 28-May-2019
Do you like learning English at home? Try a British Council website called ESOL Nexus. It's free to use and has lots of interesting lessons, videos, texts, listening activities and grammar exercises. Here are a few links to lessons we can recommend: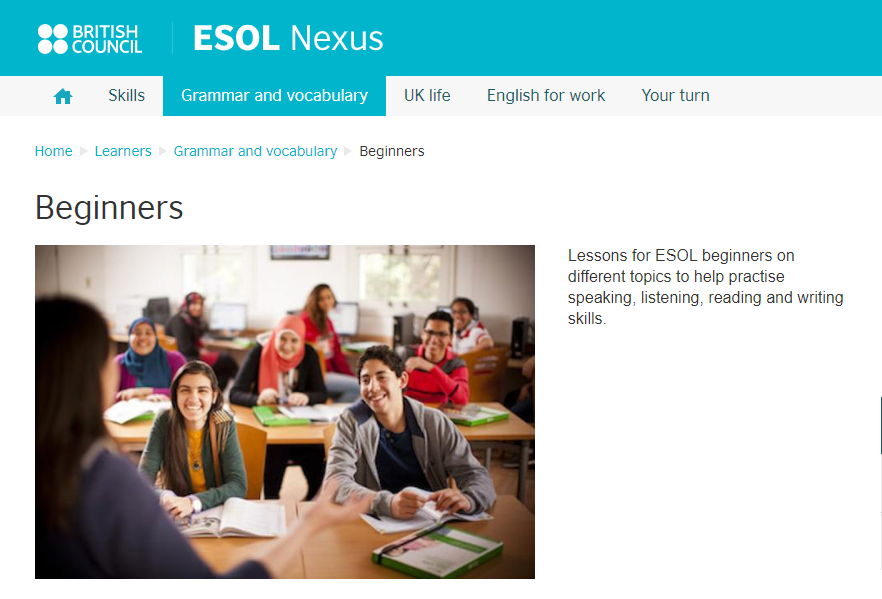 - If you are a beginner, start here:
https://esol.britishcouncil.org/content/learners/grammar-and-vocabulary/beginners
- Looking for some more grammar and vocabulary practice? Here is a link to lots of interesting exercises: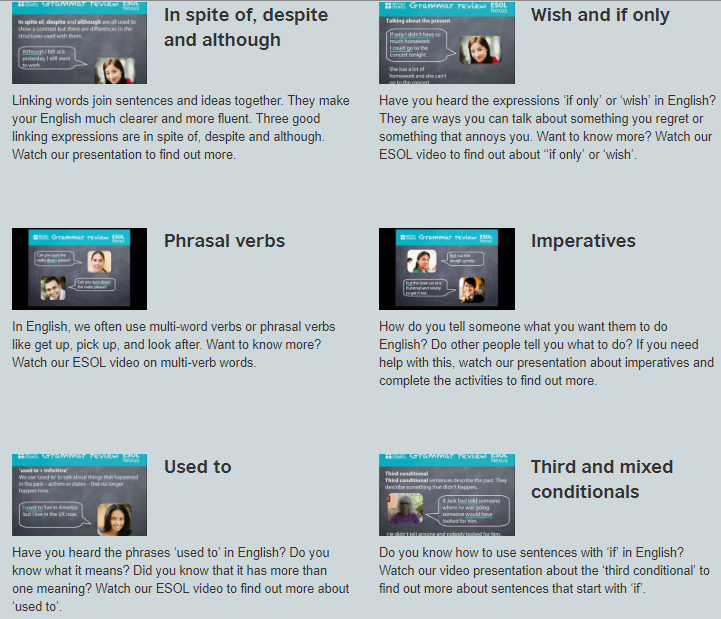 https://esol.britishcouncil.org/content/learners/grammar-and-vocabulary/english-grammar
- Some very helpful videos on pronunciation can be found here: https://esol.britishcouncil.org/content/learners/skills/pronunciation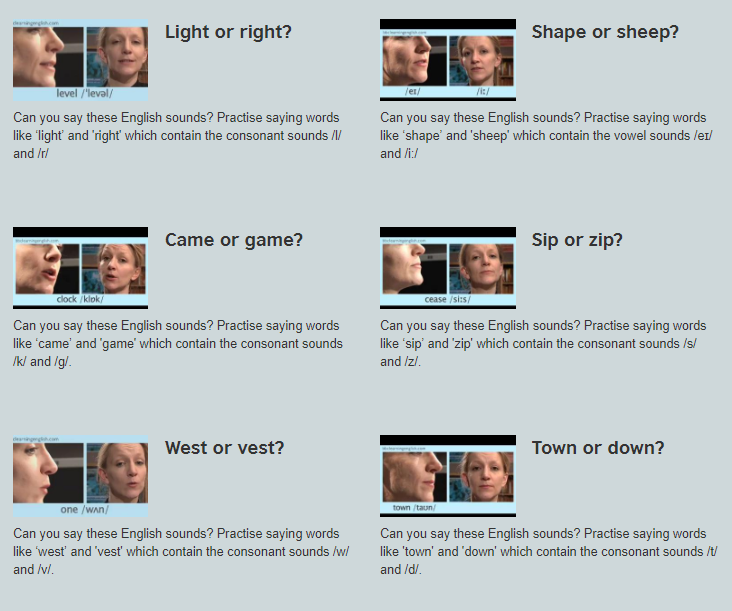 - The 'English for Work' section offers lessons on new language and vocabulary specific to different types of jobs.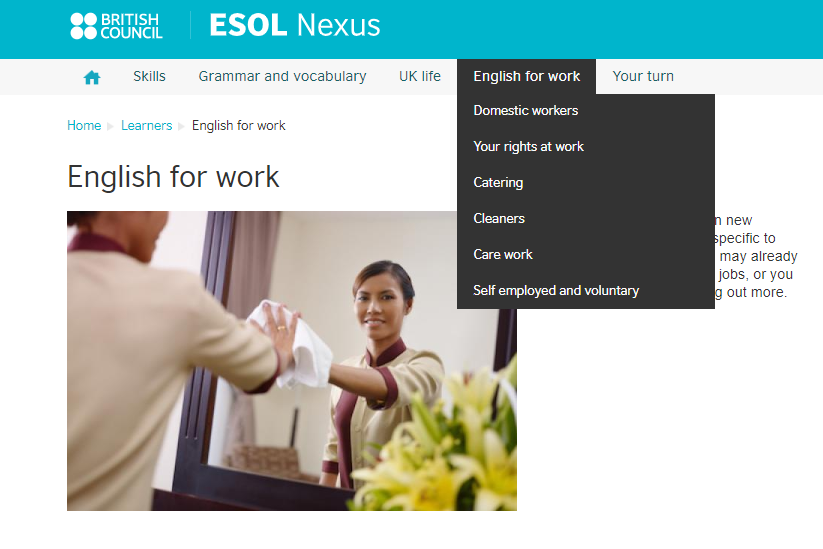 https://esol.britishcouncil.org/content/learners/english-for-work
- ... and if you are preparing to take Life in the UK test, you may find these lessons useful:
https://esol.britishcouncil.org/content/learners/uk-life/life-in-the-uk-test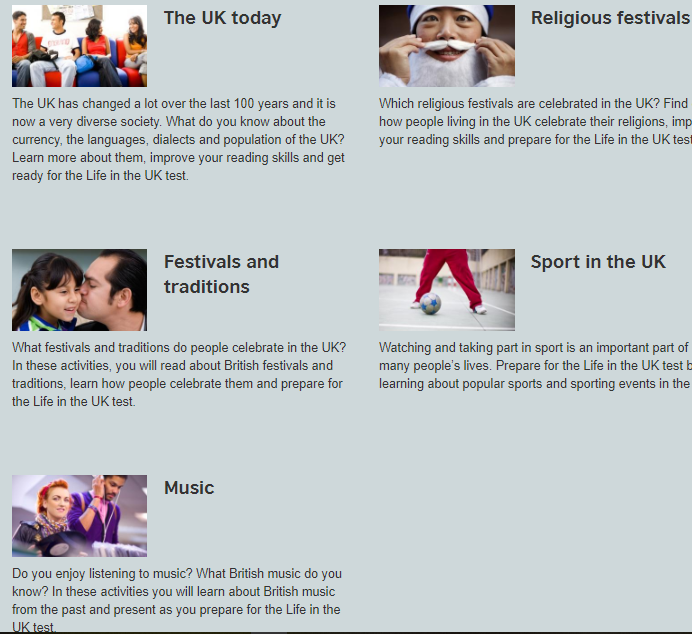 There are many more lessons to choose from, so why not start exploring today?
---
Ramadan Mubarak!
Friday, 17th May 2019 on 17-May-2019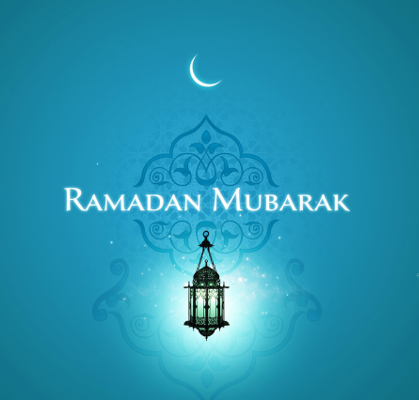 This week we talked about Ramadan. Our Muslim students in Leven and Methil explained how special this time is for them.
Ramadan is the ninth month in the Islamic calendar. This year it started on 6th May and will finish on 6th June. Ramadan is very important to us. We remember the time when Qu'ran was given to the Prophet Muhammad. This month Muslims fast (do not eat), pray, read Qu'ran, help others and make donations. We don't drink coffee or smoke cigarettes either.
During Ramadan we don't eat or drink from sunrise to sunset. This is difficult in Scotland because the days are very long. We wake up at about 2:30am - just before the sunrise - to have a meal (suhoor). Then we can eat and drink again at about 9:30pm, after the sunset. This evening meal is called iftar. We eat it together as a family and sometimes invite friends and neighbours to share. We start iftar with eating dried dates to break the fast.
Every night the meal is different. In Syria we eat chicken, beef, lamb, bread, and tabbouleh. In Bangladesh we also eat rice, fish, potatoes, chickpeas and a lot of vegetables. Sumon says: 'In Bangladesh we eat lady's fingers but not in Scotland!' Lady's fingers? We all check this name online. It comes up as okra – a green vegetable similar to a courgette.
Amie says: 'We eat okra in Gambia too! We have chicken, lamb and beef dishes, and we also eat rice but only in the evenings. My mum used to make porridge for the evening meal too. In Gambia we all eat together from one big plate. At this time of year there's fresh mango to eat and it's very important to drink cold water because it's very hot.'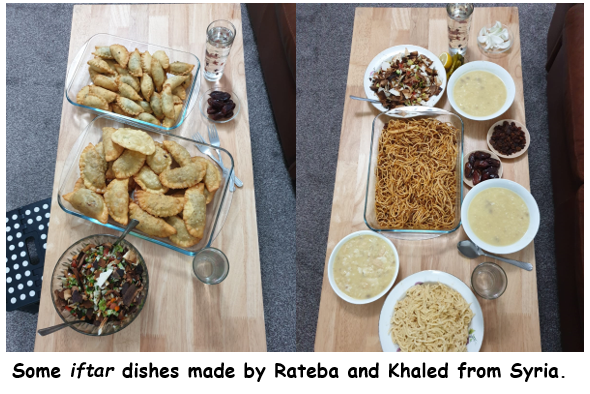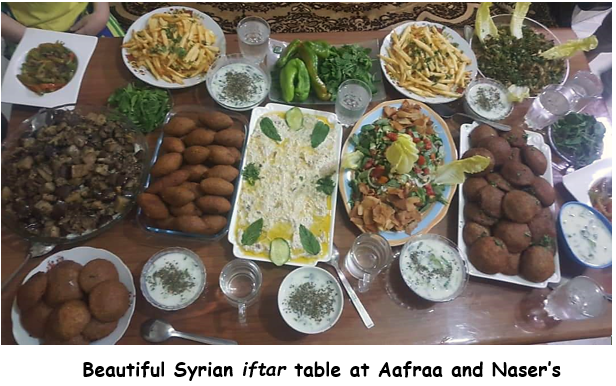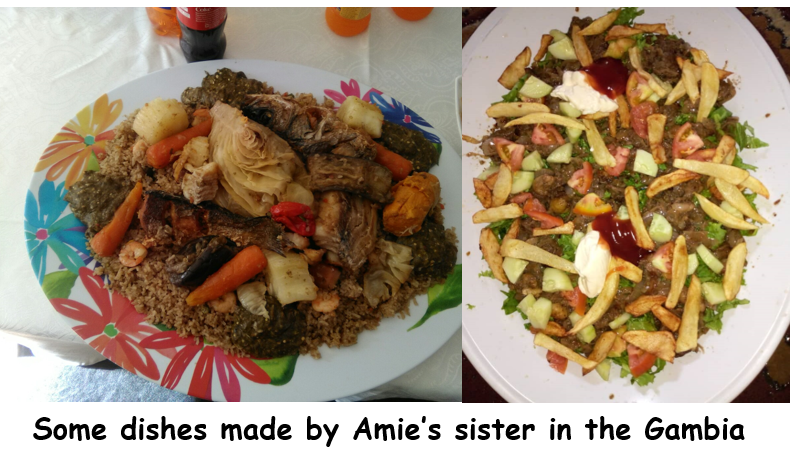 Small children, sick and elderly people don't have to fast. Amie explains: 'When I was pregnant I didn't fast but I donated food, water and money to other people. It's possible to postpone your fasting to another time if you can't do it during Ramadan.'
Ramadan is a happy time for us. We don't normally feel hungry during the day. Khaled says: 'I sometimes feel thirsty.' All the other Muslim students in class nod in agreement.
Selina says: 'This month I feel Allah gives me more energy!'. Aafraa explains: 'We believe that at the end of the world we will be saved because we remembered about Ramadan.'
'This is the time to make peace and it's time of forgiveness,' adds Amie.
Ramadan ends with Eid-al-Fitr, a holiday celebrated by Muslims around the world.
Text based on discussions with ESOL students in Levenmouth.
---
Meet Our Students: Paula
Monday, 29th April 2019 on 26-Apr-2019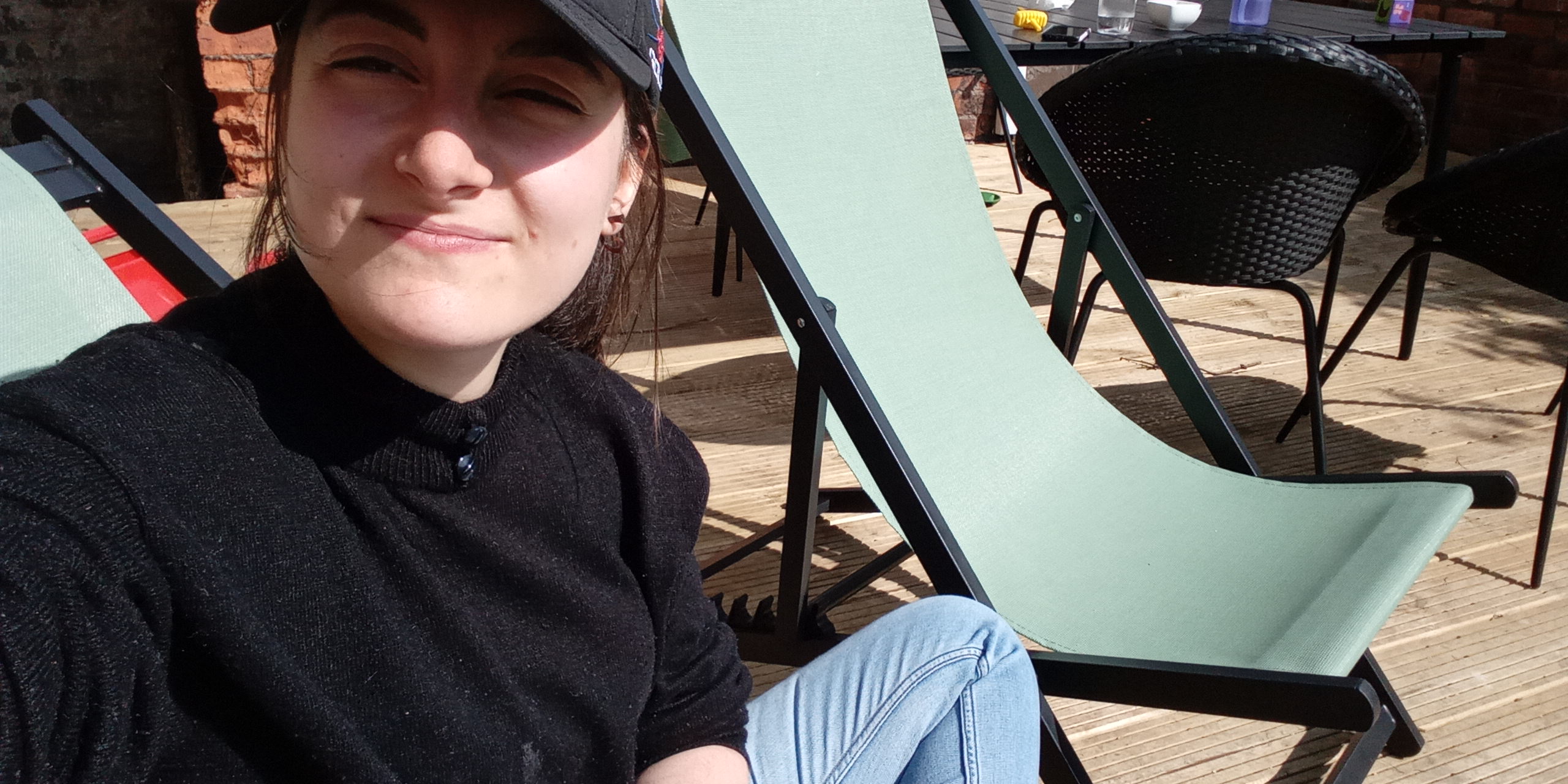 My name is Paula and I'm Galician (a lovely autonomous community in the north-west of Spain). I'm 23 years old and I'm currently working as an au-pair in Scotland. I decided to come here because I've always been interested in this country and its beautiful landscape. I will never regret this decision! I love it!
However, there are some things from my country that I miss a lot, like the warmer weather or traditional food. This August I'm finishing my stay here in order to carry on with my academic studies. I'm still waiting to be accepted for the master's degree programme I want, but hopefully everything will be all right. Actually, I have been accepted on another programme I applied for, so at least I have some options at the moment.
It makes me feel really glad to be here but on the other hand I'm really looking forward to going home and to seeing again all the people I love. One of the things I'm going to miss the most about Scotland will be the language. Indeed, I am not the best English speaker (by far) but I love this language and it's exciting for me to learn it, although sometimes I'm quite lazy to practise it. Luckily for me, I have some weekly English classes that help me a lot in my will to improve this language. There, we practise a bit of everything: speaking, writing, grammar… In other words, these classes provide me with a lot of needed knowledge, to achieve a better level of English; I love them!
---
Mazurek Cake - Easter Inspiration from Poland
Saturday, 20th April 2019 on 19-Apr-2019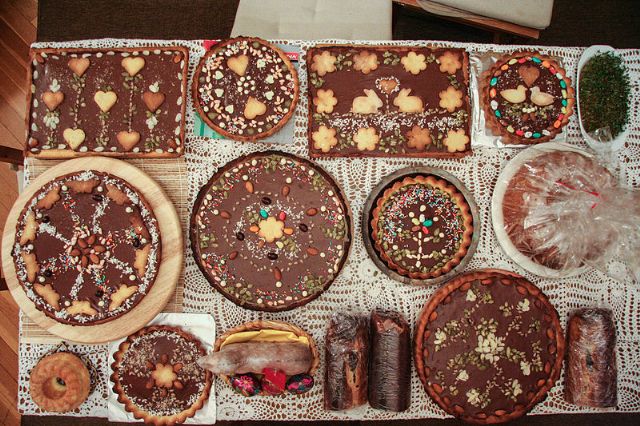 Do you celebrate Easter? Are you looking for some inspiration for your Easter table? Here is a little story and a recipe for a 'mazurek', a traditional cake made in Poland at this time of year.
Mazurek is considered uniquely Polish but the recipe for this cake most likely came to Poland from the East via the spice trade-route from Turkey in the early 17th century.
The cake's name comes from the Mazur or Masurian tribe that lived in the Mazovia region of central Poland (near Warsaw). You may have heard the word 'mazurek' or 'mazurka' before, as it is also the name of a traditional folk dance. Frédéric Chopin, who was born near Warsaw, composed many mazurkas inspired by the local musicians and dancers. Click here to listen:
https://www.youtube.com/watch?v=H5D46aHhRDM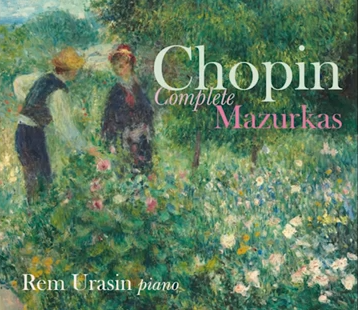 If you are interested in the folk dance, here is a clip from a German TV station, giving a lot of interesting information about the music and dance (in English):
https://www.youtube.com/watch?v=Q2vfnA_1pjk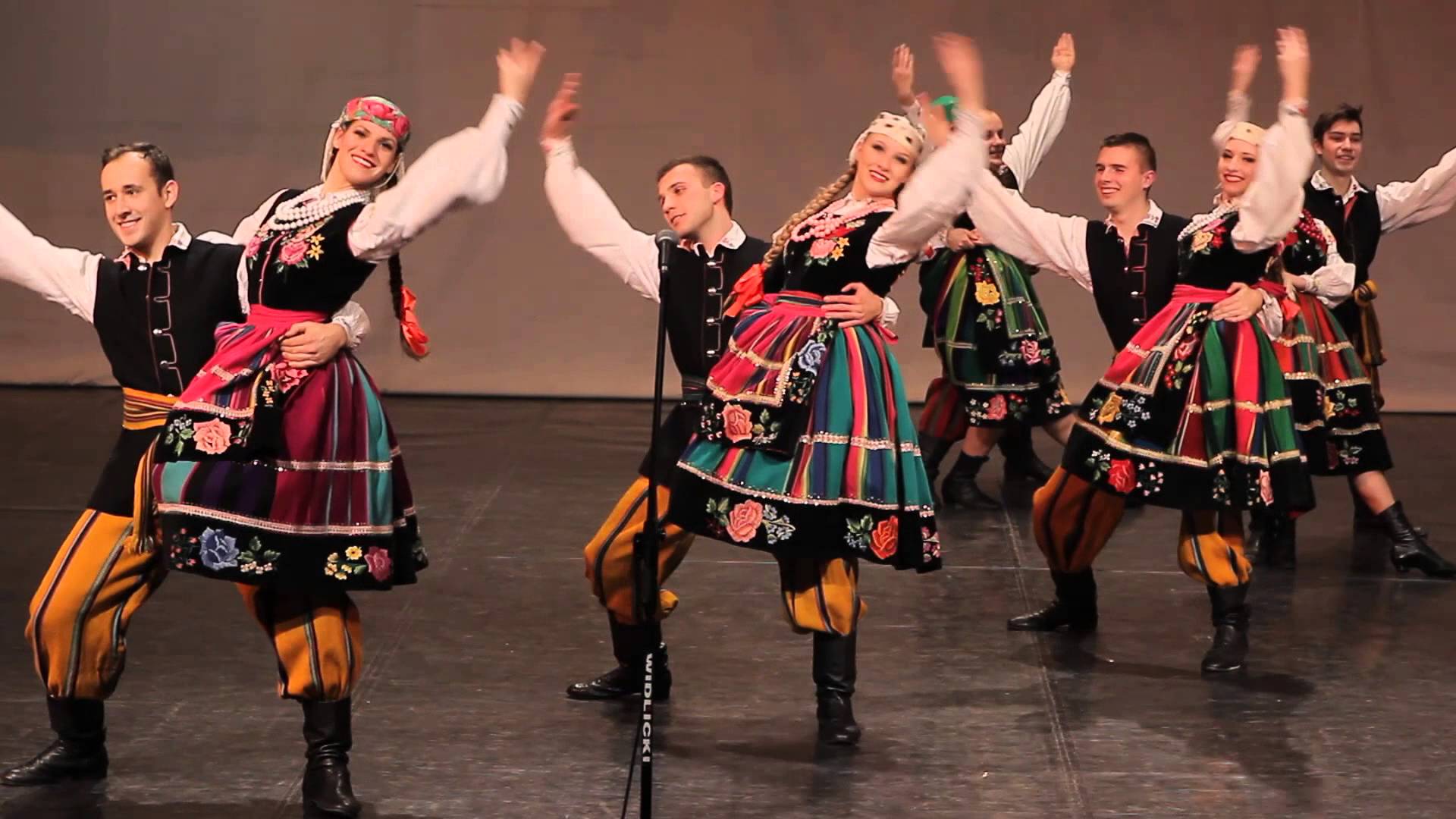 Now, let's get back to food!
Mazurek cake is made on a shortcrust pastry base, decorated with dried fruit, various nuts, biscuits, chocolate and icing. It's easy to make and it's fun for kids (and grown-ups) to decorate.
You will find many traditional recipes for mazurek online but here is the one I am trying this year. It's a vegan twist on the modern classic and it sounds delicious!
Mazurek Cake for Beginners
Ingredients:
For the shortcrust base:
1 or 1.5 cup all purpose flour (go for 1 cup if you like a thin layer of pastry)
4-5 tablespoons of potato starch
¾ cup cold (solid) coconut oil
¼ cup icing sugar
¼ teaspoon baking powder
¼ teaspoon salt
¼ cup cold water
For the nutty spread:
½ cup peanut butter
2/3 cup or 1 cup coconut milk (from a can)
3-5 tablespoons maple syrup or agave syrup
¼ teaspoon salt
For the chocolate icing:
1 bar dark chocolate (about 100g)
¼ cup coconut milk (from a can)
For decoration:
a handful of your favourite nuts, preferably roasted (walnuts or almonds will be perfect).
Method:
1. Pre-heat the oven to 180C.
2. Prepare the shortcrust pastry first: put all the pastry ingredients (except water) in a blender or a food processor and blend everything until it resembles crumbles. Gradually add 1-2 tablespoons of water and keep blending until the crumbles become dough. You can do this step in a bowl, using a wooden spoon to combine the ingredients first and then form the dough with your hands. Form the dough into a ball and put it in the fridge to chill.
3. Now make the nutty spread: to begin with, blend ½ cup coconut milk with all the other ingredients for the spread. When everything is mixed well, keep adding the remaining coconut milk until it has the right consistency to be spread on the pastry. You may find that 1/2 cup of the coconut milk is enough.
4. Take the chilled dough out of the fridge. You can either roll it out or just use your fingers to spread it onto a 20cm x 30cm (or similar) baking tin. Once the dough is evenly spread, use a fork to make several holes in it. Place the tin in the oven and bake the dough for about 15 minutes, until golden in colour.
5. Optional step if you want the nuts to be extra tasty: place them on a baking tray and roast in the oven for about 10 minutes.
6. In the meantime, make the chocolate icing. Break the bar of chocolate into small pieces and put them in a small saucepan. Add the coconut milk and heat up gently stirring constantly with a whisk until the chocolate melts. Don't overheat!
7. Take the baked pastry out of the oven and let it cool down. Once cool, put the nutty spread on top of the pastry in an even layer. Then, decorate the top with the roasted nuts and the chocolate icing.
8. Once decorated, place your mazurek in the fridge for a while, it will be easier to cut into squares later.
Here is my mazurek, made this morning: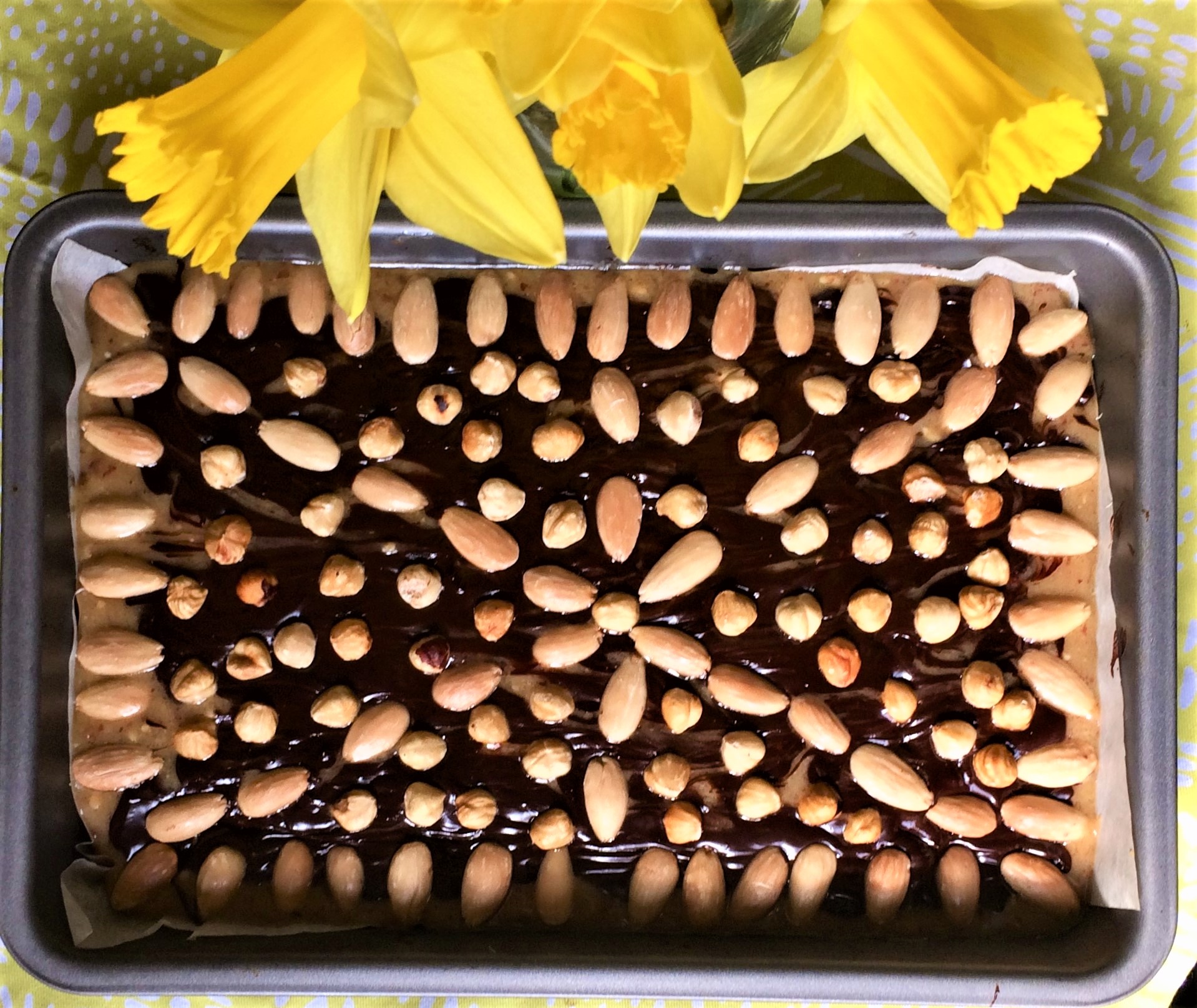 Happy Easter and 'Smacznego'!
Dominika
*top photo: Magic Madzik, through Wikimedia Commons
**recipe: translated and adapted from: http://www.jadlonomia.com/
---
Meet Our Students: Valeria
Monday, 15th April 2019 on 15-Apr-2019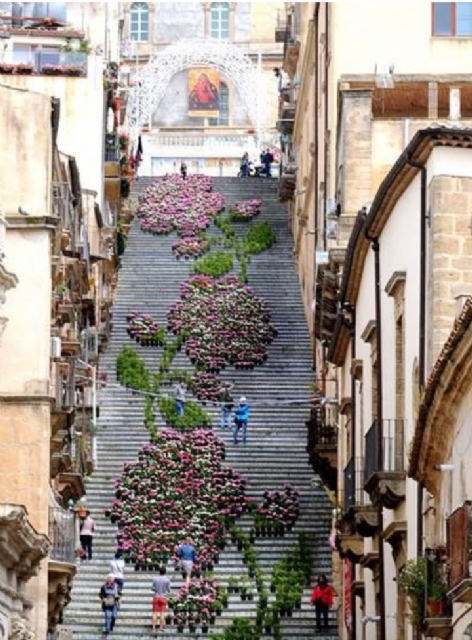 My name is Valeria. I'm from Italy. I'm 42 years old.
I live with my family in St Andrews. I moved to Scotland for my husband and to give my children the opportunity to learn English.
My first impression of this country was bad because when I arrived the weather was bad. Now I think it is a good place to live and to bring up my children.
I work in St Andrews University as a house service assistant. In my free time I like reading, listening to music and walking.
I enjoy meeting new people and learning English in ESOL classes. I think the best strategy to learn English is listening, speaking and watching movies in English.
My plan for the future is to go back home.
---
What Do You Do In Your Free Time?
Tuesday, 9th April 2019 on 30-Mar-2019
What is your favourite free-time activity? Do you have an interesting hobby? Do you need any special equipment for it? Why do you like it?
Here are a few students sharing their thoughts: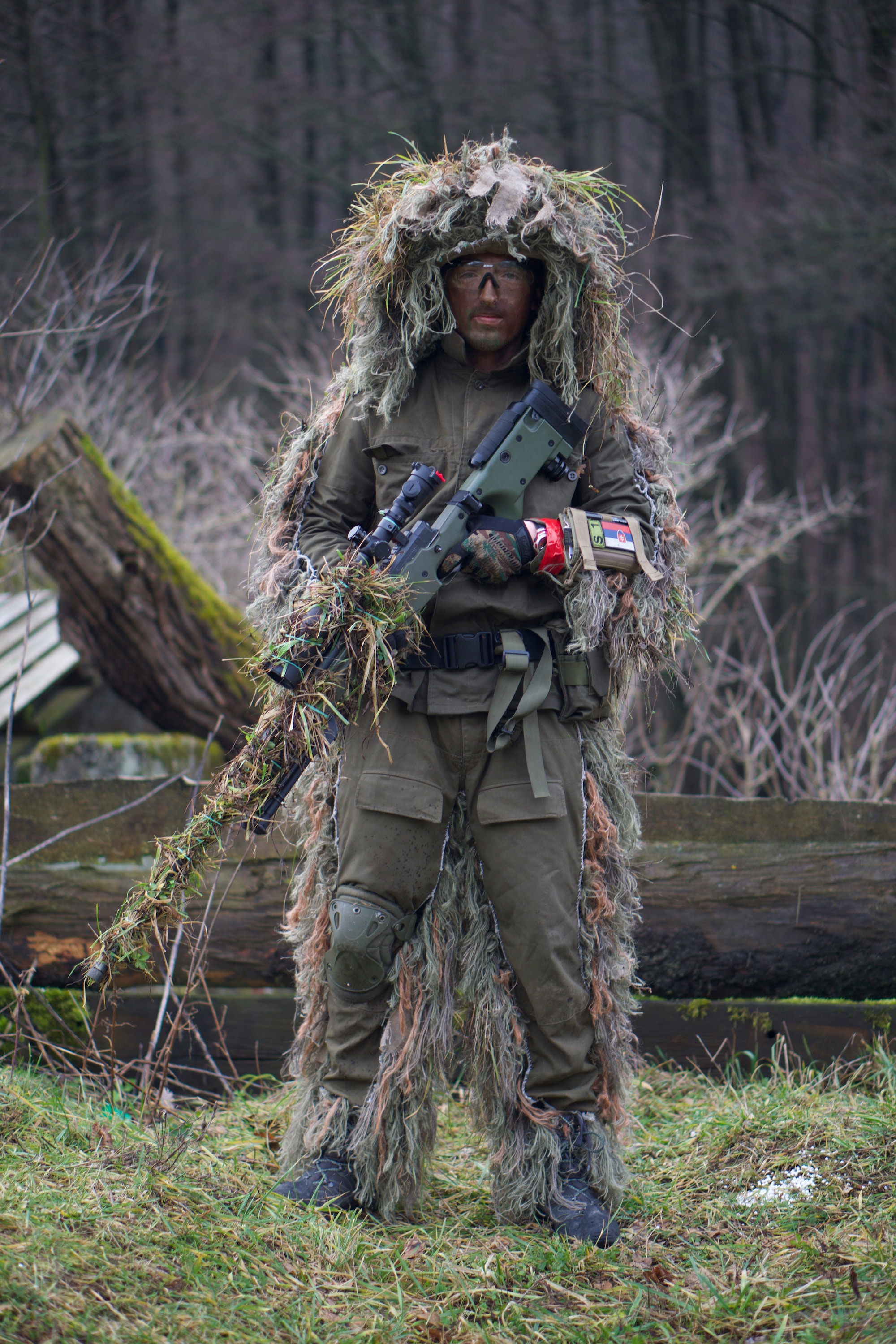 Paul says: 'My favourite free-time activity is ASG (Airsoft Game). It's a game similar to paintball but the bullets are smaller. Also, it's less painful than paintball! I usually play it once a month. There is a special place in Falkirk where I go to do it. The play area is in the woods. To begin you only need money because you rent some basic equipment there. The basics that you need are good safe glasses with anti-fog lenses and then you can buy a camouflage suit. It gets muddy after rain so it's good to have some waterproof boots. Because I have my own equipment, I only pay the entrance fee. The best time to do it is spring and autumn. I love it. I can meet new people and I can improve my English, but the best is the adrenaline!'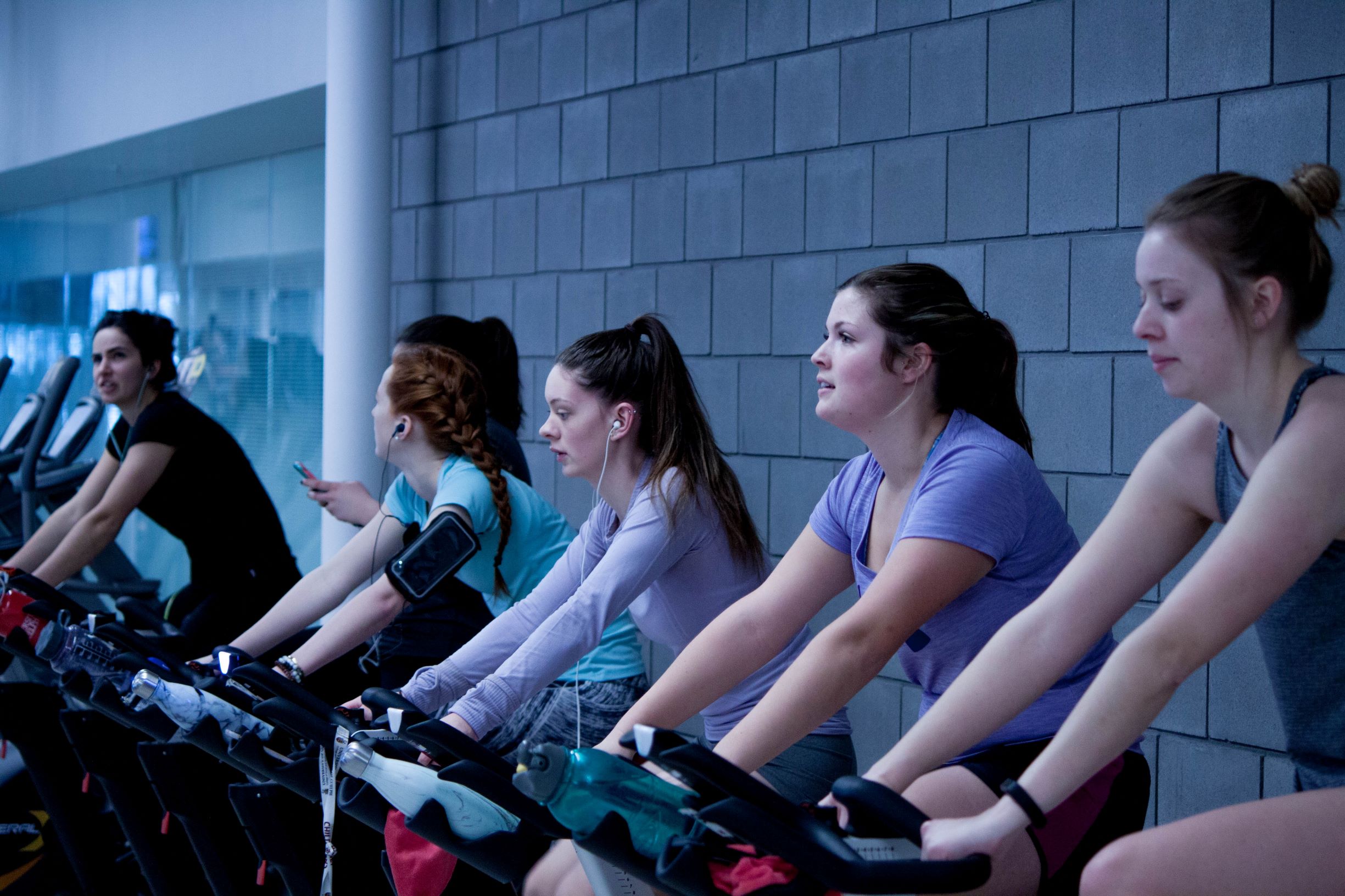 Sogecu says: 'My free time activity is going to the gym. I go to the gym usually two times a week. I go to the Balbirnie gym in Glenrothes because it's the cheapest place. I don't need any equipment, only some comfortable sport clothes and a bottle of water. The best time for the gym is after 5 o'clock when my husband comes home from work and can look after the children. I don't like the gym very much but I have to do it for a healthy and fit body.'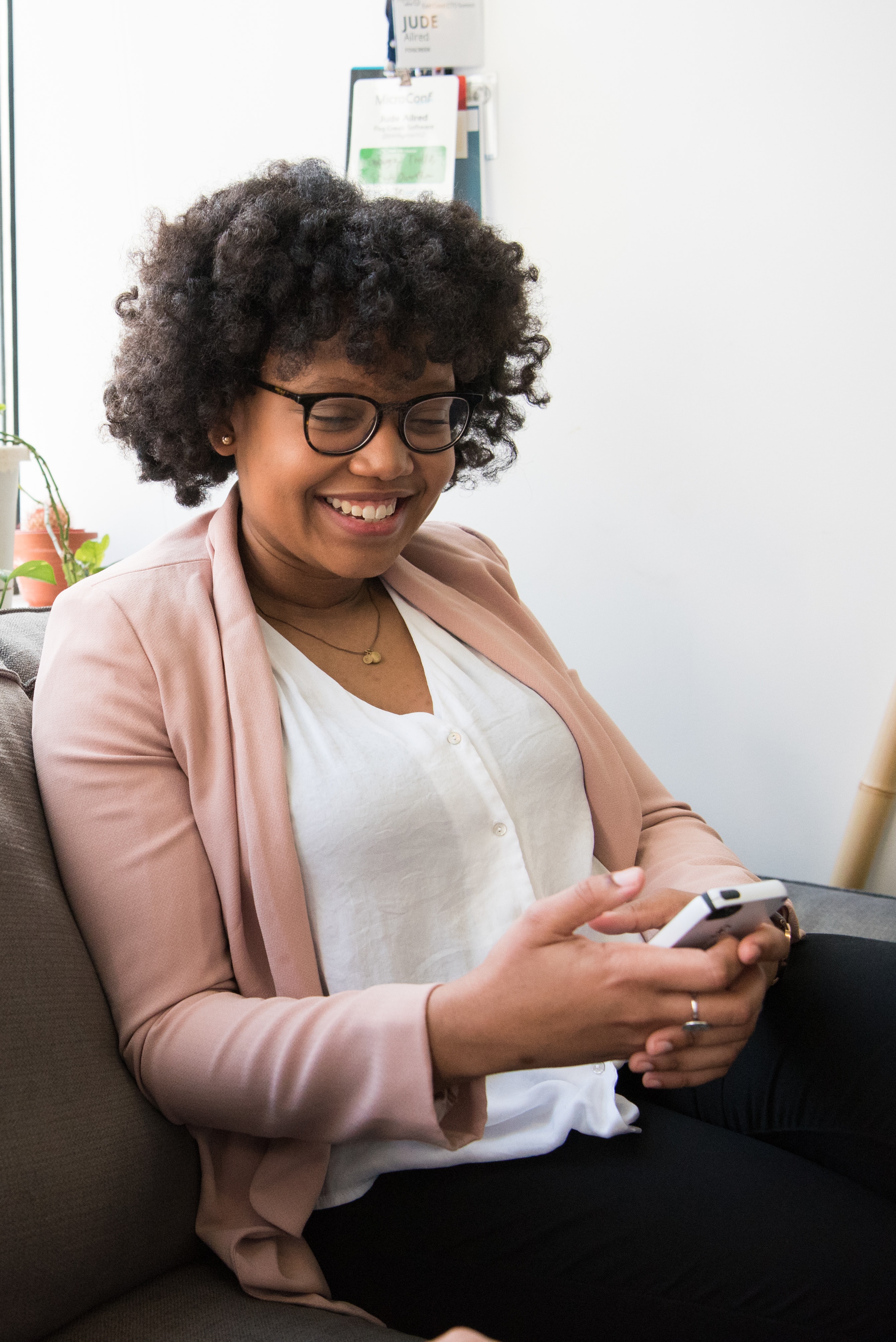 Amie says: 'I like using the Internet to talk to my family and friends in Gambia.
I like to chat about life over there, to talk about all the food I really miss: fruits, peanuts, small bananas, paw paw (papaya) fruit, kabaa fruit and mangoes.'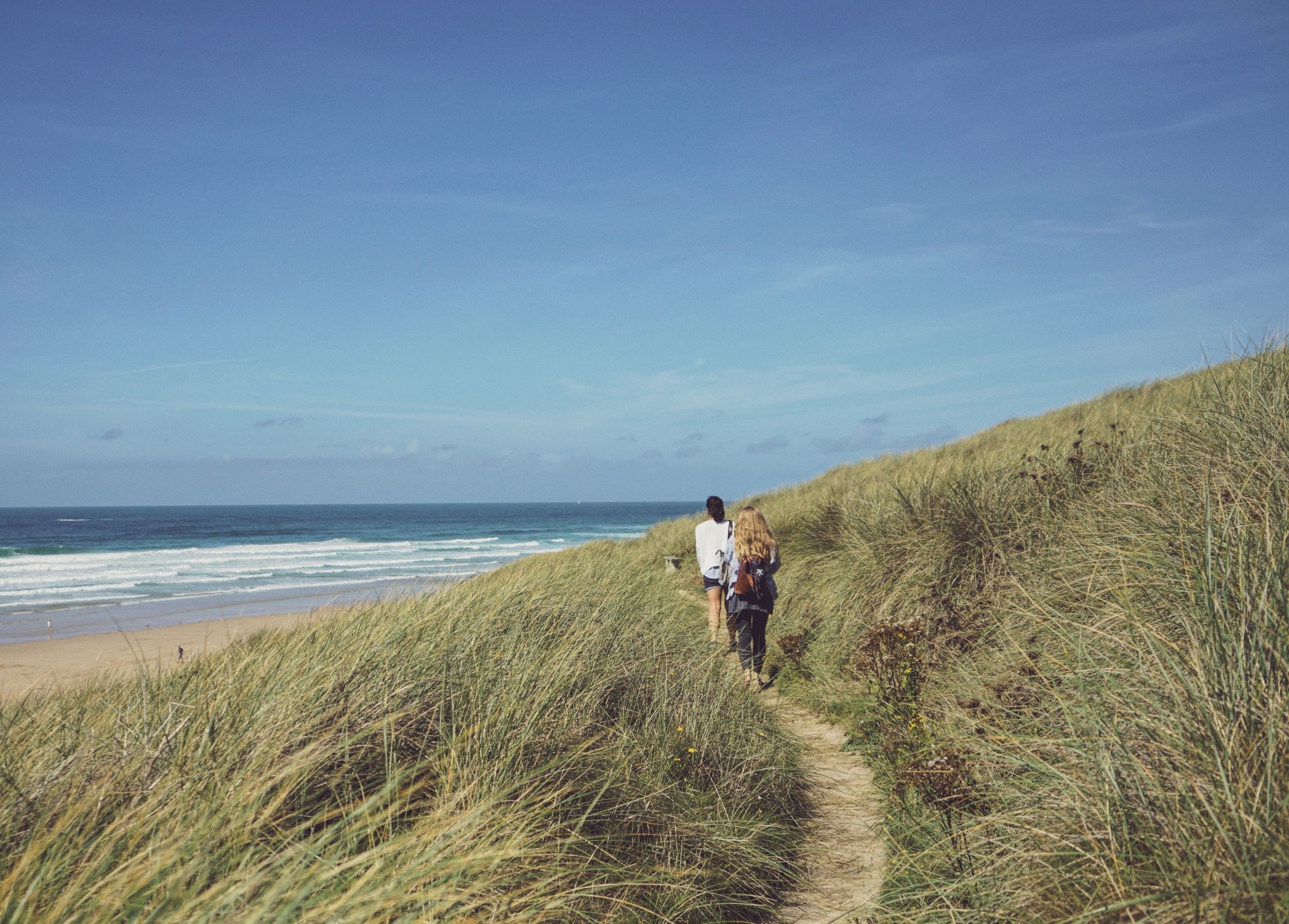 Erika says: 'My favourite free-time activity is going for a walk. When I was in Spain I usually did it with my friend three times a week, but here it's more difficult for me because I don't have enough time. The equipment you need is a little bag with water, a towel and a phone, just so you know the time. Sometimes I wear shorts and a t-shirt and other times I wear leggings and a jumper, depending on the weather. The best time to go for a walk is early in the morning or maybe later in the afternoon because I think it's the best weather, both in December and in August. I like to do it because I can see landscapes and I can talk with my friend while I am doing some exercise.'
---
Brexit. Next Steps for EU Citizens.
Thursday, 4th April 2019 on 3-Apr-2019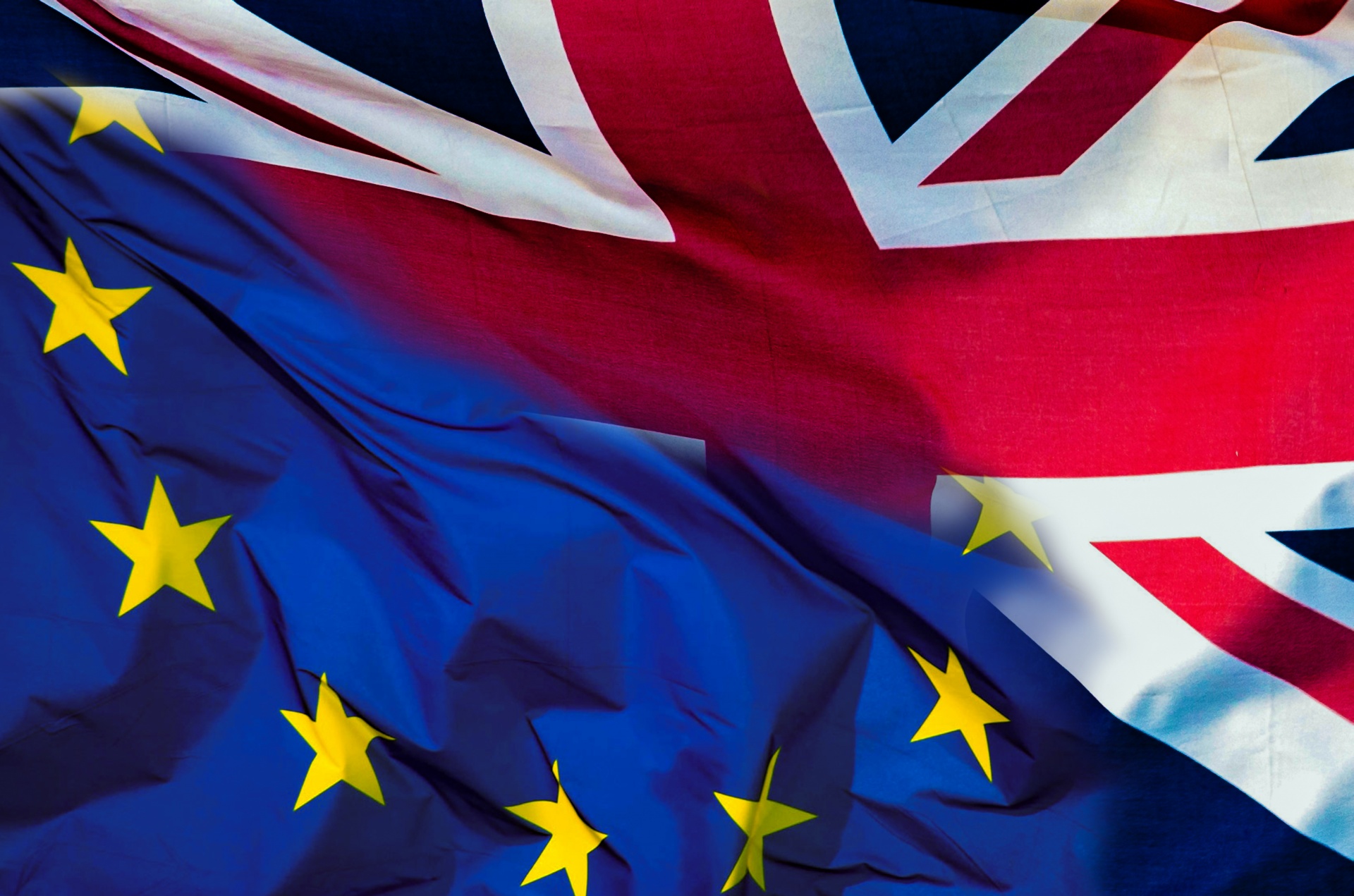 If you come from one of the European Union countries or you know someone who does, you are probably a bit worried about the future just now. At the time of posting this text the deadlines have not been confirmed yet, but here is a little guide* on what all EU citizens living in the UK will have to do if Brexit happens.
The most important thing to remember is that the UK government has promised all EU citizens living in the UK will keep their current rights. However, they will HAVE TO apply for a settled status. It means that if you are in the UK now, you must 'tell' the Home Office how long you have lived here and provide some documentation to support this.
The deadline is 30 June 2021. The aplication is free of charge.
New immigration rules are going to be introduced for people arriving in the UK in the future, after Brexit day.
Here is a video that explains some of this:
https://www.youtube.com/watch?v=jmoaS78eCDo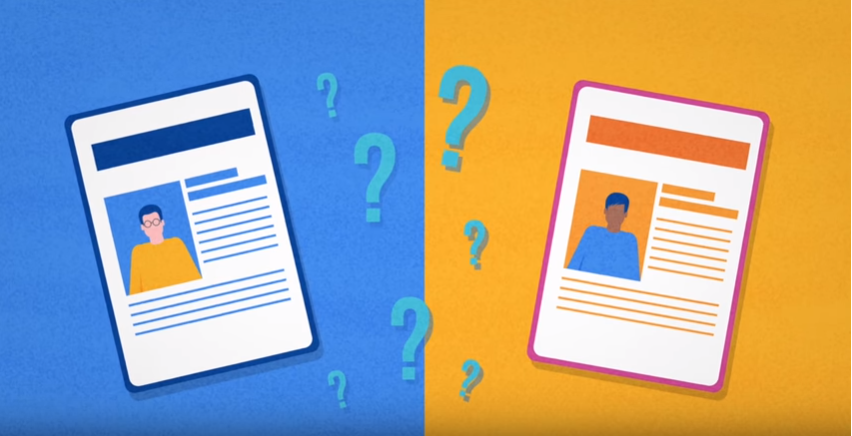 ............................................................................................................................................................................
The most recent news is that the SETTLED STATUS APPLICATIONS ARE NOW OPEN: https://www.gov.uk/settled-status-eu-citizens-families/applying-for-settled-status
This opened on 30 March 2019 with a deadline for applications of 30 June 2021.
You can find more about how to apply by downloading the UK Government's guide here: http://citizensrightsproject.org/wp-content/uploads/2019/03/Apply-to-the-EU-Settlement-Scheme-settled-and-pre-settled-status-GOV.UK_.pdf
Translations available here: https://www.gov.uk/guidance/settled-status-for-eu-citizens-and-their-families-translations?utm_source=5435c6d6-83d1-40c0-b55f-a60e65741456&utm_medium=email&utm_campaign=govuk-notifications&utm_content=immediate
............................................................................................................................................................................
What is SETTLED STATUS?
'Settled Status' is a new immigration scheme for EU and EEA citizens and their family members who wish to continue living in the UK after Brexit. You might have also heard of 'The EU Settlement Scheme'.
It will allow you and your family to continue to live, work and study here in the UK.
You will still be eligible for:
public services, such as healthcare and schools

public funds and pensions

British citizenship, if you meet the requirements and want to apply.
Who should apply?
Except in a few cases, you need to apply if:
- you're an EU, EEA or Swiss citizen
- you're not an EU, EEA or Swiss citizen, but your family member is
The EEA includes the EU countries and also Iceland, Liechtenstein and Norway.
This means you need to apply even if you:
- were born in the UK but are not a British citizen - you can check if you're a British citizen (https://www.gov.uk/check-british-citizenship) if you're not sure
- have a UK 'permanent residence document' (https://www.gov.uk/settled-status-eu-citizens-families/if-youhave-permanent-residence-or-indefinite-leave-to-remain)
- are a family member of an EU, EEA or Swiss citizen who does not need to apply - including if they're from Ireland
- are an EU, EEA or Swiss citizen with a British citizen family member
X Irish citizens MAY choose to, but do not need to, apply
X Holders of an 'indefinite leave to remain' or 'indefinite leave to enter' MAY, but do not need to, apply.
What do I need to apply for the Settled Status?
Proof of identity

'Continuous residence in the UK' check

Recent photo of yourself

National Insurance Number (NIN), if you have one

Criminality check

E-mail address

Access to an Android phone. If you do not have one, you can visit a digital access centre, send your documents to the Home Office by post or apply online.
What is the proof of identity?
- If you are an EU /EEA citizen: a valid national ID card OR a valid passport
- Non-EU family member: a biometric residence card or a biometric residence permit.
What is the 'continuous residence in the UK' check?
When you apply, the UK government institutions will exchange your data to establish how long you have been in the UK. Depending on how long you have been residing in the UK, you will be granted either 'Settled' or 'Pre-settled' status:
Settled status: EU citizens who have five or more years continuous residence in the UK;

Pre-settled status: EU citizens who have less than five years continuous residence in the UK. Once you reach the 5 year old threshold, you'll need to APPLY AGAIN, this time for the Settled Status.
'Continuous residence' means at least 6 months in any 12 month period.
There are many documents that may provide enough evidence of your residence. These are e.g.: an annual bank statement, a council tax bill, a payslip, a letter from your employer, a P60, an invoice for a school, college or university fees, a tenancy statement or a mortgage statement, a confirmation letter from your landlord, a utility bill, a letter from a UK GP.
More information on submitting additional evidence here: https://www.gov.uk/government/publications/eu-settlement-scheme-statement-of-intent/annex-a-documentary-evidence-of-continuous-residence-in-the-uk
What is the criminality check?
The UK government will check your criminal records. If you have any doubts about undergoing the criminality check, we advise you contact a qualified solicitor.
Documents: Make sure you have a valid biometric passport or a valid biometric ID card. It will have the following logo:

If you do not have biometric documents, you will probably need to send your documents to the Home Office by post.
If you do not have valid ID documents, seek help of your embassy or consulate.
What is the proof of receiving Settled Status?
You will get an e-mail confirming you have made an application. After the identity and residence checks have been made, you will receive an e-mail with a reference number and a link to a government service: UK: view-and-prove-your-rights.homeoffice.gov.uk.
To log in, you will need to provide your passport number and date of birth.
Where to get more help?
Home Office guide above - it provides the most current contact details where you can get help.

Your local CAB office (Citizen Advice Bureau/ Citizens Advice Scotland). You will be able to get guidance on the phone, online, and face-to-face. There will be a Freephone helpline available which will be open on Monday and Friday mornings from 9am to 1pm and Wednesday afternoons from 1pm to 5pm. The Freephone helpline number is 0800 916 9847.
More information: https://www.cas.org.uk/Brexit
*This post is based on the information provided by the Home Office and EU Citizens' Rights Project. The information is for guidance only. Also, we are not responsible for the content or integrity of any external websites.
---
Meet Our Students: Bety
Tuesday, 2nd April 2019 on 30-Mar-2019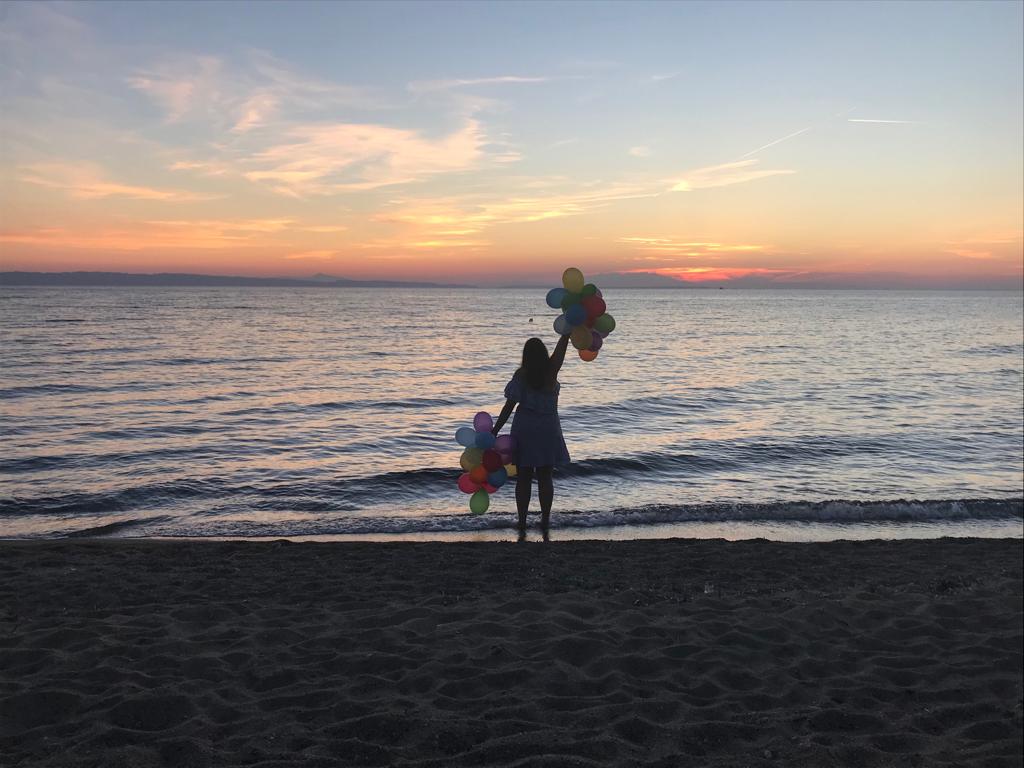 Hi,
my name is Bety (just one simple 't', as I am quite simple too). I'm 21 years old and I'm from the Czech Republic (you might have heard of it – it's a small country in the middle of Europe - in Czech school books they call it 'the heart of Europe'. It's the one with the cheap beer - and it's good too! You should try it if you haven't yet).
I'm from a small town close to Prague (it is probably the only city you know in the Czech Republic, isn't it?). Well, I think that gives you an idea of how small and insignificant my country is. Still, I love it! Of course, Prague is beautiful! (even though it's full of tourists!). But it's the country itself that's breathtaking. I live by a river and I just love walking in nature with Jess (my dog. My love. I'm sure I'll be writing more about her later! Just can't help it).
Finally, it's the Czech people I love. To be honest, I make fun of them all the time. I make fun of the way they're negative and complain all the time, the way they try to cheat with almost everything or how they wear their socks with their sandals! But in the end, it's the people that are closest to me. If you get to know them, you'll find that they're unbelievably loyal and only they can get my silly jokes! I think you get the idea how homesick and sentimental I can get…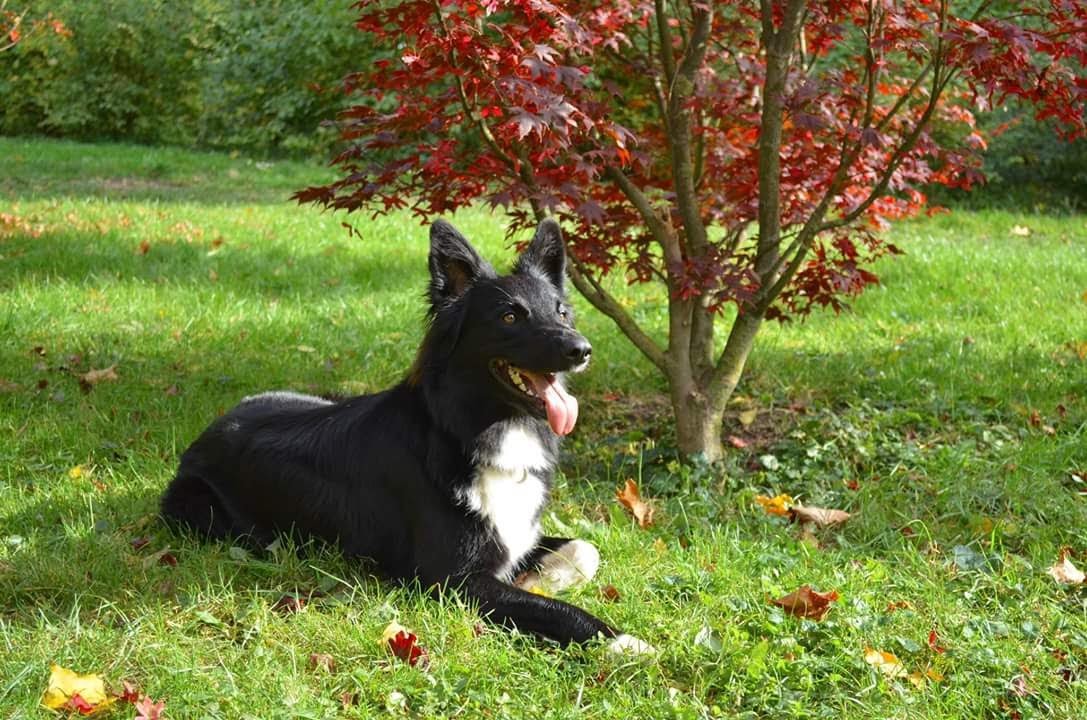 I have quite a big family with which I spend most of my time. I have two younger brothers and three cousins living just next to us. So, I'm never bored! As you already know, I've got a dog - Jess. And she's so beautiful! She's a crossbreed of Border Collie and German Shepard. I don't think you've ever seen a dog so smart and friendly and obedient and I could go on and on! We also have 4 cats (I'm not a crazy cat lady! It's just happened!).
What am I doing here in Scotland? I'm an au pair. I needed to take a break from studying. I wasn't really happy at one point and I had to do something totally different. This has really helped me to get my thoughts back in order. I'm looking after 3 children. It's a hard job. Don't even try to think otherwise! However, I'm enjoying this experience. I love Scotland! I want to see as much of it as I can. I got lucky and I got a great host family! Also, I feel really grateful for the coffee mornings in the Byre Theatre and ESOL classes where I have met so many different and interesting people.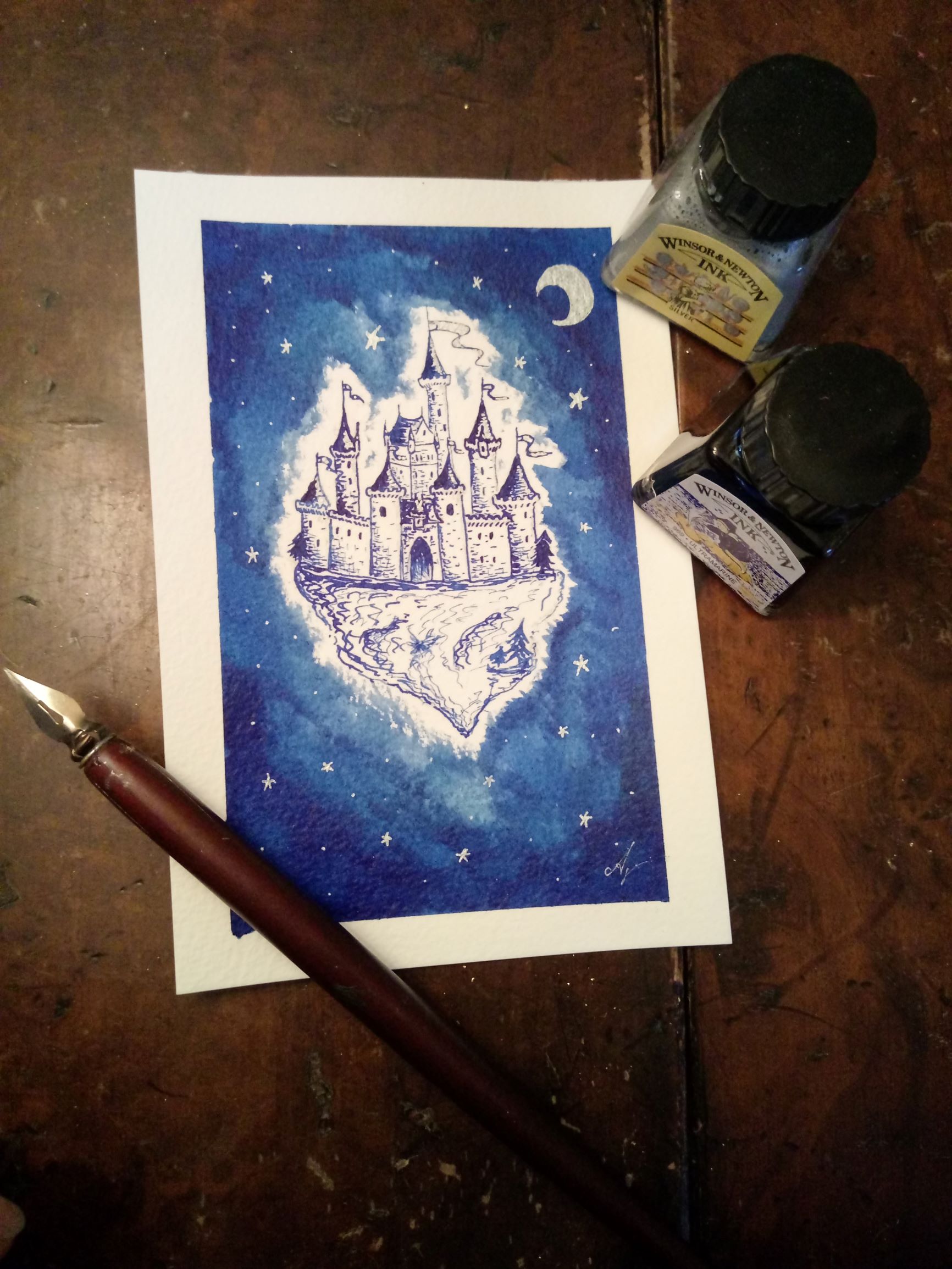 Would you like to know anything about me? I'm quite boring, I'm afraid… As you might have noticed, I love Jess! At home I spend most of the time with her. I love long walks. I like to read a good book. My list of books I want to read is endless, and it gets longer every day. I read mostly fantasy or sci-fi, but I can read almost anything! Almost. Not everything. When I had my 'vampire phase' (which I'm still embarrassed about) I couldn't finish Twilight. My new hobby is writing a diary, but unfortunately, I'm constantly two months behind! I love music. I listen to almost everything, but had I to choose my favorite genre, it would be a rock ballad.
I watch TV series. I like drawing. I love singing and dancing even though I'm a disaster! I like hanging out with my friends. Swimming and skiing. Back in the Czech Republic I used to play floorball which I miss quite a lot. It's not popular here and almost no one plays it…
I hope you've enjoyed reading a bit about me.
Maybe we meet someday!
Best wishes,
Bety
---
April Fools' Day Crossword and Word Search
Monday, 1st April 2019 on 30-Mar-2019
Ready for a challenge? Here is a little word search with clues below. The words in the grid are running horizontally, vertically, or diagonally. Some words are spelled backwards! Also, to make it a little more interesting, one of the answers does NOT exist in the grid. Can you find which one?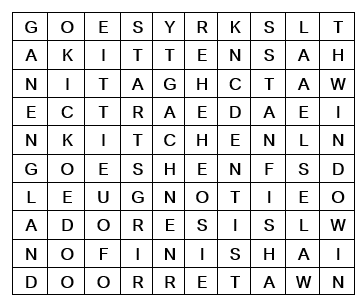 ​
1. Rain is drops of '.........' falling from clouds.
2. The room in which you cook.
3. The person who looks after your teeth.
4. The opposite of 'old'.
5. Something you wear which tells the time.
6. This lets light into a house and lets you see out.
7. To hit something hard with your foot.
8. Another word for 'begin'.
9. The number before 'eleven'.
10. The past tense of 'see'.
11. A baby cat.
12. This gives you your sense of taste.
13. The opposite of 'begin'.
14. This country is immediately south of Scotland.
15. '.. .. .. ..' and chips.
16. This country shares its eastern border with England.
17. 3rd person singular of "to go".
18. The opposite of "good".
---
Mother's Day and Mothering Sunday
Sunday, 31st March, 2019 on 25-Mar-2019
Mother's Day and Mothering Sunday have different origins. Although they represent the same meaning, they originated very differently. We all celebrate the day but very few people know its origin. The original meaning of Mothering Sunday and Mother's Day has been somewhat lost but it's still a day to show appreciation of mothers.
Mother's Day celebrations date back as far as the ancient Greeks where they would celebrate Rhea, the Mother of the Gods and Goddesses, every spring with festivals of worship. The Romans also celebrated a mother Goddess, Cybele, every March as far back as 250BC.
Mothering Sunday has been celebrated on the fourth Sunday in Lent, (a Christian festival leading up to Easter) in the UK and Ireland, since the 16th century. The date varies in other parts of the world. Many countries follow the US and celebrate Mother's Day on the second Sunday in May, whilst other countries enjoy the day on March 8th which is International Women's Day.
The US celebrates Mother's Day on the second Sunday in May. The holiday was formed much later than Mothering Sunday, and was created in 1908 by a lady named Anna Jarvis from Grafton, West Virginia, in honour of her late mother. Jarvis pressed hard for a holiday to celebrate all mothers after the death of her own, and after lots of hard work and determination, President Woodrow Wilson finally made it an official holiday for the US in 1914.
Interestingly, Anna Jarvis herself was the first person to condemn the growing commercialisation of Mother's Day, and started organising boycotts of the event she herself created. One of her anti-Mother's Day protests even led to her being arrested for disturbing the peace, and she was particularly appalled by ready-made Mother's Day cards, saying "A printed card means nothing except that you are too lazy to write to the woman who has done more for you than anyone in the world." Buying chocolates was a no-no as well. "You take a box to Mother," she scoffed, "and then eat most of it yourself. A pretty sentiment!"
As with any national holiday, Mother's Day involves the giving of gifts and cards to show mothers how much they are valued and appreciated. It is still a tradition to spoil mums with a bouquet of flowers or a box of her favourite chocolates, as well as more modern gifts such as perfume, clothes or jewellery.
As with any national holiday, food always seems to take centre stage; Christmas dinner, Easter eggs, Valentine's feast and Mother's Day Sunday roast dinner.
Also once known as 'Simnel Sunday', families would gather with freshly baked delicious Simnel cakes. Simnel cakes are made of two rich fruity layers that are boiled in water and then baked, before having almond paste spread on top and in the middle of the layers.
Traditionally, it's believed that bread was also freshly baked for mothers on Mothering Sunday. Children would awake early and get the bread in the oven so mums would waken up to the beautiful aroma of fresh bread. Nowadays mums are either taken out for a special dinner or a home cooked Sunday roast dinner is enjoyed by the whole family - mums might even be cooking it themselves!
David
---
Shrove Tuesday or Pancake Day
Tuesday, 5th March, 2019 from 2-Apr-2019 to 2-Mar-2019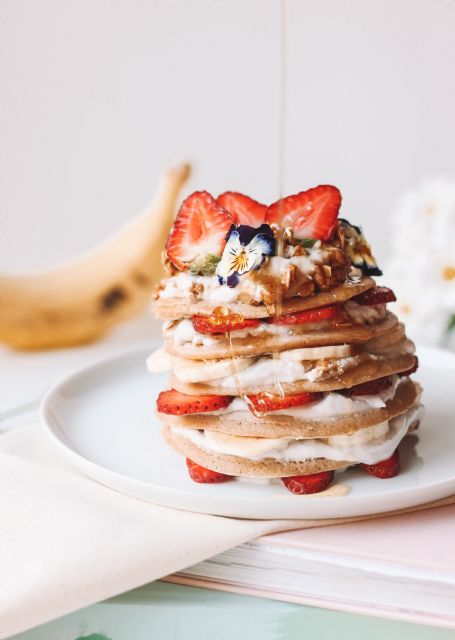 During the coming week you may hear people mentioning Pancake Day or Shrove Tuesday, and see displays in shops of pancakes and the ingredients for making pancakes, or bottles of 'instant' pancake mixtures - some of which make pancakes which are more punishment than pleasure.

Here is some information about Pancake Day/Shrove Tuesday.
The name Shrove comes from the old English word 'shriven' meaning to go to confession to say sorry for the wrong things you've done. In other countries Shrove Tuesday is known as 'Mardi Gras'. This means 'Fat Tuesday' in French and comes from the idea of using up food before Lent.
Many countries round the world have Mardi Gras celebrations and carnivals. Some of the most famous are in Rio de Janeiro in Brazil, New Orleans in the U.S.A., Venice in Italy and Sydney in Australia.
The other name for this day is Pancake Day. The history of Pancake (or Shrove) Tuesday is that it was traditionally a Christian day of feasting prior to Ash Wednesday, the first day of Lent, which is the 40 day period of fasting before Easter.
The name Pancake Day comes from the old custom of using up all the fattening ingredients in the house before Lent. The fattening ingredients that most people had in their houses in those days were eggs and milk. A very simple recipe to use up these ingredients was to combine them with some flour and make pancakes!
Pancake Tuesday's links to the Christian religion are also the reason why its date changes each year as it will always be 47 days before Easter Sunday, a date which is also not fixed in the calendar.
Before the 7th century there were two methods for calculating the date for Easter. The first originated from Roman missionaries who established what is now Whitby Abbey. The second came from the Irish or Celtic tradition which – in the 630s – used the island of Lindisfarne off the coast of Northumberland as their main centre.
Both used the lunar calendar, but had two different methods of calculation. This meant that the Roman and Celtic Easters fell on entirely different dates, which caused confusion for early Christians. In 664 the Roman missionaries at Whitby declared that the Roman method would be used to establish the date for Easter, and is still used today.
As well as giving up "luxury" foods, the people were expected to give up fun pastimes such as dancing and playing games. Therefore, Shrovetide (the four days preceding Lent) was a time for merriment.
A legacy of these festivities is the "pancake race". According to tradition, in 1445 a woman in the village of Olney heard the 'shriving' bell while she was making pancakes and ran to church in her apron, still clutching her frying pan.
The Olney pancake race is now world famous. The course is about 300 mtrs, from The Bull Hotel to St Peter & St Paul Church, and competitors have to be local housewives and they must wear an apron and a hat or scarf. Each contestant has a frying pan containing a hot pancake. She must toss it three times during the race. The first woman to complete the course and arrive at the church, serve her pancake to the bellringer and be kissed by him, is the winner.
Speaking of tossing pancakes, in 2012 the University College London came up with a formula to generate the perfect toss:
L = 4×H /π– D / 2
(L = hand distance from inner edge of the pancake / H = height of flip / D = diameter of pancake)
My own (secret) recipe for pancakes is:
1) Mix 200 gms of self-raising flour, 100gms of caster sugar, and 1 egg together.
2) Add milk until the mixture runs slowly off a spoon.
3) Melt margarine or butter in a frying pan at medium heat.
4) Put a large spoonful of the mixture into the frying pan and cook until bubbles begin to appear. The underside of the pancake should be a gold or brown colour (but not black).
5) Toss the pancake and catch it in the pan after it has turned through 180 degrees, or 540 or 900 or 1,260 degrees, but ensuring that the cooked side is uppermost.
6) Continue to cook until it is also golden brown.
7) Eat it while hot with butter or jam or syrup or cream or ice-cream or all five.
David
---
---
. ESOL Office, Fife Council, Cosmos Learning Centre, Abbey Walk, KY16 9LB, Telephone: 01334 659363